18th June 2014
Mudtastic Shoe Collection For Charity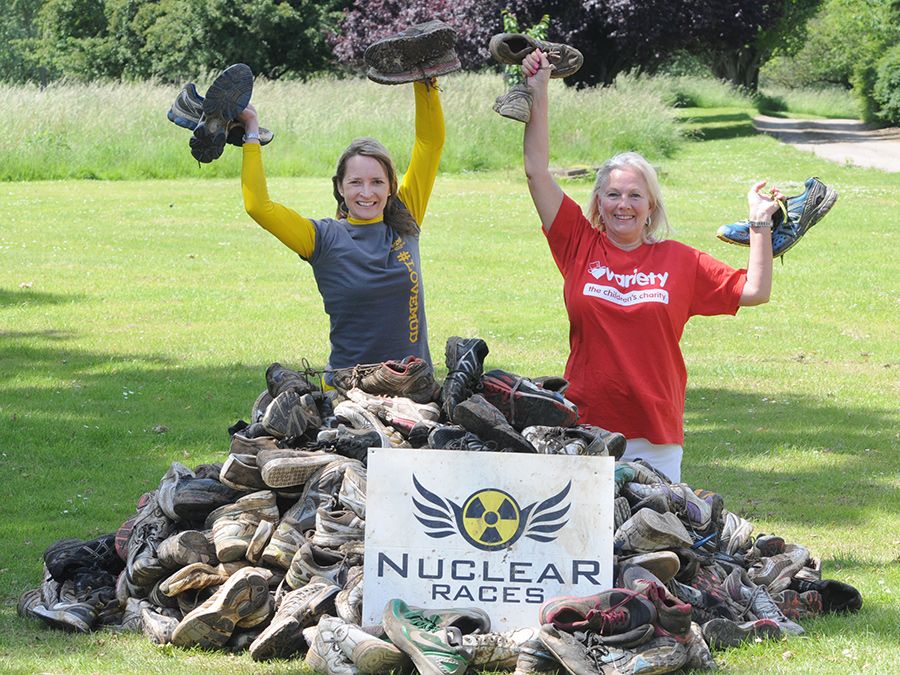 Hundreds of pairs of muddy trainers & shoes were donated by competitors after they took part in the Nuclear Rush obstacle race organised by Nuclear Races at the Kelvedon Hatch Secret Bunker estate on Saturday 11th May.
Nuclear Races were overwhelmed with the involvement of the 3000 enthusiastic Rush entrants, who donated well over 400 pairs of trainers after they'd run the 6km and 12km muddy challenge. The Nuclear Races organisers are keen to encourage this popular & growing sport to recycle their running shoes which many would otherwise throw away when they return home, even though may only have been worn once.
Nuclear Races event organiser Lucy Goodson said "not only do our runners raise a whole lot of money and awareness for their own chosen charities at our events, but at Nuclear Races, we also like to give something back to the community and this is just one of the many ways we can." The European Recycling Company provide an opportunity for people all over the UK to give a new lease of life to their unwanted shoes and clothes. Through a partnership with Variety this type of recycling/reuse can also generate funds for the charity which helps to improve the lives of sick, disabled and disadvantaged children and young people"
The Nuclear Races are 5km-16km muddy obstacle races on challenging terrain at The Secret Nuclear Bunker, Kelvedon Hatch, Brentwood. Next races are Nuclear Blackout Night Race on September 20th and Nuclear Fallout 8km/16km obstacle race on November 2nd 2014.