8th April 2016
Monty Norman's Birthday Celebration at BAFTA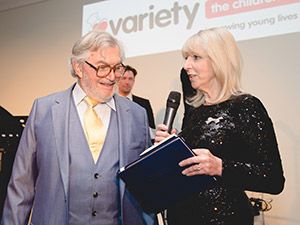 The man who wrote the James Bond Theme, Monty Norman, turned 88 on Monday 4th April. Variety, the Children's Charity together with Monty's family, organised a wonderful celebration of Mr Norman's extraordinary contribution to film and stage music in the UK at BAFTA. Due to the fantastic enthusiasm from the guests to assist Variety in their mission to help the sick, disabled and disadvantaged children around the UK, along with the many selfless auction donors and various brilliant performers that we had through the night, the charity raised instrumental funds needed for helping more children get the equipment they need.

The evening started with an enticing champagne reception followed by Jason Lewis' (Event Chair) welcoming speech and Pamela Sinclair's (Chief Barker) Loyal Toast and welcome speech. With the main course well under way, the guests were treated to a stunning performance from Barry Cryer, legendary comedian, and Jay Rayner's quartet. Sir Roger Moore, our special guest, made a stellar introduction for Monty' Norman's performance and together with Malcolm Brenner, Celebrity Chair, honoured Monty a Celebrity Ambassador for Variety, the Children's Charity.

The guests were reminded of the reason this event was organised when they saw a short but very emotional video about a boy called Sam who has quadriplegic cerebral palsy. The appeal conducted by the Event Chair, Jason Lewis, was extremely powerful and raised vital funds for children throughout the UK who are sick, disabled and disadvantaged.
To help raise even more, Hilary Kay conducted a fun and delightful live auction, kindly made possible by generous donors and bidders. The auction was not only a success due to its importance, but also because it was charismatically orchestrated by Mrs Kay.
Our guests had an opportunity to meet famous faces such as Sir Roger and Lady Kristina Moore, Bary Cryer, Jay Rayner, Tom O'Connor, John Glen, Eunice Gayson, Vanessa Feltz, Ben Ofoedo and many more.
It was certainly a night to remember; Happy Birthday Monty Norman!