30th April 2012
Miles Of Smiles For School As Variety Yorkshire Present Sunshine Coach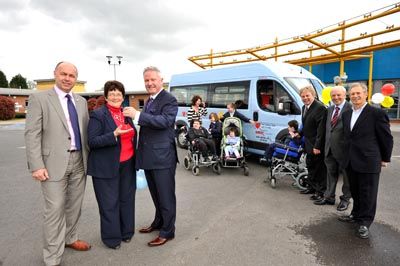 A Variety Sunshine Coach has been presented to Hob Moor Oaks School, which is part of the Hob Moor Federation, Acomb, York by MRC Transmark. The company is a huge supporter of Variety and has sponsored several Sunshine Coaches nationally.
Hob Moor Oaks is a special needs primary school and caters for 67 children from ages 2-11 years who have a range of disabilities including profound and multiple learning difficulties, autism and severe physical disabilities.
The specially designed Variety Sunshine Coach presented to Hob Moor has a wheelchair lift and will be used to aid outings into the community on day and residential trips.
The school's Principal, Angela Shaw, said:
"The new Variety Sunshine Coach is a welcome replacement for our two existing Sunshine Coaches which have done sterling work. Its arrival will enable us to continue to provide our pupils with life enhancing opportunities."