7th January 2013
MBE For Ollie Hynd Rounds Off A Year To Remember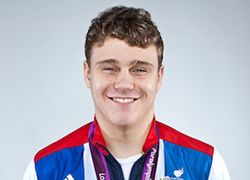 Ollie Hynd was today awarded an MBE in the Queens New Years honours list for services to swimming, describing this as the 'perfect' way to round off a superb year. Ollie, who is 18 from Kirkby in Ashfield, already began the year as European Champion following a set of superb debut performances on his international debut in Berlin.
Ollie was quick to pay tribute to those who had helped him achieve his success this year, including his coaches, family and friends:
"It is such an honour to be awarded an MBE, especially as such a young person, and I am very humbled. I want to say a big thank you to those who have worked and supported me to achieve success in the water, in particular my family and coaches Glenn, Jill and Tim."
Success in London was achieved in dramatic circumstances, after he broke his wrist during the first Paralympic swimming trials in London. At one stage even attending the games was in doubt, but with the aid of support from medical and coaching staff, Ollie was able to work his way back to peak fitness in time for the games.
A major inspiration for him during that difficult time was his idol, Michael Phelps, who sustained a similar injury before going on to competitive success.
Ollie said:
"I was devastated after I had my injury, but knew that Phelps had a similar thing happen to him and went on to great things. Very quickly, I set my goal on going from being in my cast to becoming Paralympic Champion, and never looked back"
A full set of medals in London followed, as Ollie brought home the gold medal after victory in the 200m Individual Medley, silver in the 400m Freestyle, and bronze in the 100m Backstroke.
This set of performances meant that Ollie was the most successful male swimmer on the Paralympics GB team at London 2012.
The hard work has already started again for Ollie ahead of the World swimming championships in Canada next year. He has recently returned from a training camp in Dubai, and has already been back in competition. Outside of his training things have also been busy for Ollie with numerous appearances, talks and undertaking charitable work for the Muscular Dystrophy Campaign and Variety.