28th May 2012
Majestic Tower Of London Hosts Special Variety At Work Jubilee Party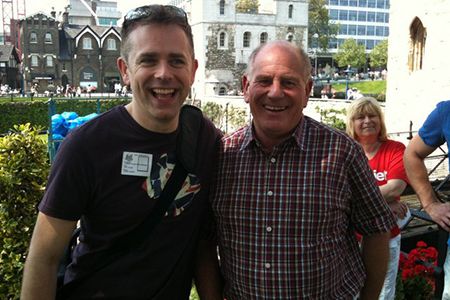 The sun was out, the sky was blue and there was nothing we would rather do than hold a Jubilee party for 60 children at the majestic Tower of London along the bank of the River Thames!

The Tower of London was very kindly donated as a wonderful venue to give a regal feel to the afternoon where entertainers, face painters and traditional party games were all on offer for the special attendees who were treated like royalty on a sunny day in May.

The children also all had the opportunity to express their artistic talents as they created a Jubilee mural through the work of the Variety at Work team who organised an arts and crafts workshop.
Variety, the Children's Charity, was extremely grateful to Chris Jarvis from CBeebies, whom very kindly hosted the event and John Partridge, Christian in BBC's Eastenders, who made a celebrity surprise guest appearance. Thank you to both Chris and John for supporting our work!

The event also gave us a special opportunity to recognise the work of teacher, Brenda Humphreys. Brenda has been a teacher for 40 years and has supported Variety for 30 of those, bringing many children to Variety events and amazingly, even some of their parents before this! The Variety at Work committee were delighted to present Brenda with a certificate to thank her for her dedication to Variety over the years.

Many thanks to Kay Tyler at the Tower of London, Gary Love from Fletcher Bakeries for bakery donations and Global Ethics for their donations of bottled water.