15th October 2015
Majestic Fundraising!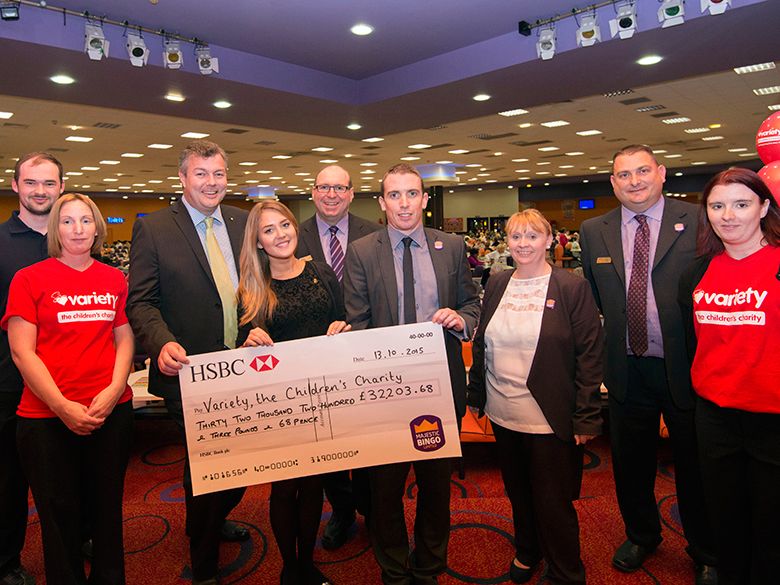 As part of Variety's charity partnership with The Bingo Association, Majestic Bingo clubs across the UK have joined together to raise vital funds in a variety of ways! Staff members have taken fundraising to a new level with sponsored aeroplane wing walking, log flume challenges, 50 mile cycles and many other creative and daring activities.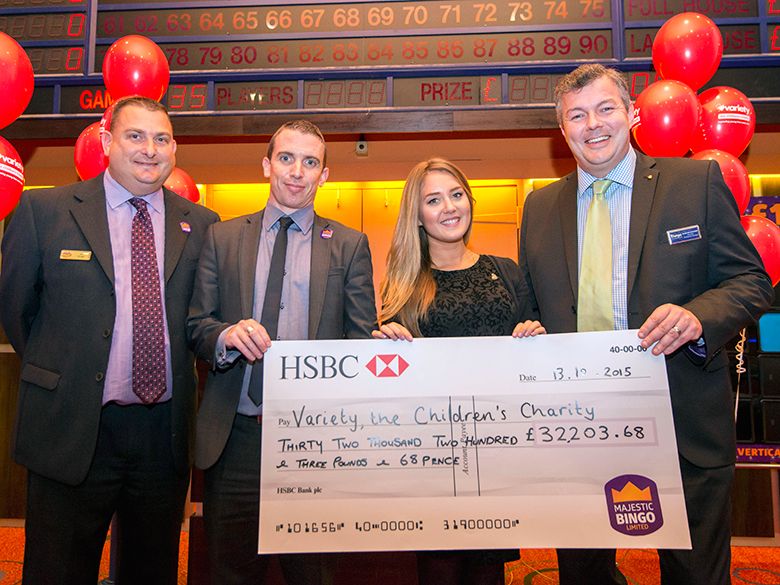 Photo: From left to right, Jon Nellist – Majestic Bingo – GM Mansfield, Ben Pitts – Majestic Bingo – Operations Director, Yolanda Lynes – Variety – Corporate Executive, Alastair Stewart – The Bingo Association – Business Development Manager.
Majestic Bingo customers have been extremely generous by donating funds, taking part in charity "Hearts of Gold" bingo games, buying Variety Gold Hearts and organising multiple fundraising activities.
Majestic Bingo has so far contributed over £32,000 towards The Bingo Association's grand total of £250,000 raised for Variety. The Apollo Mansfield club was chosen for the cheque presentation, where staff, customers, friends and family have raised over £4500 of the vital funds.
Mark Jepp, Managing Director of Majestic Bingo, said:
"Majestic are incredibly proud to have raised so much money for Variety in such a short space of time – 15% of the total amount – which is impressive given our size. We've smashed our target which is testament to our fantastic team and generous customers. Our philosophy is bingo with a local flavour and it's great to know that the money we have raised for Variety will be spent helping the lives of children in local communities."
Variety would like to thank all involved in achieving such phenomenal fundraising successes, in support of sick, disabled, and disadvantaged children across the UK.