26th November 2014
Lord Mayor's Show, A Day To Remember
London and the South East
Press releases
Great Days Out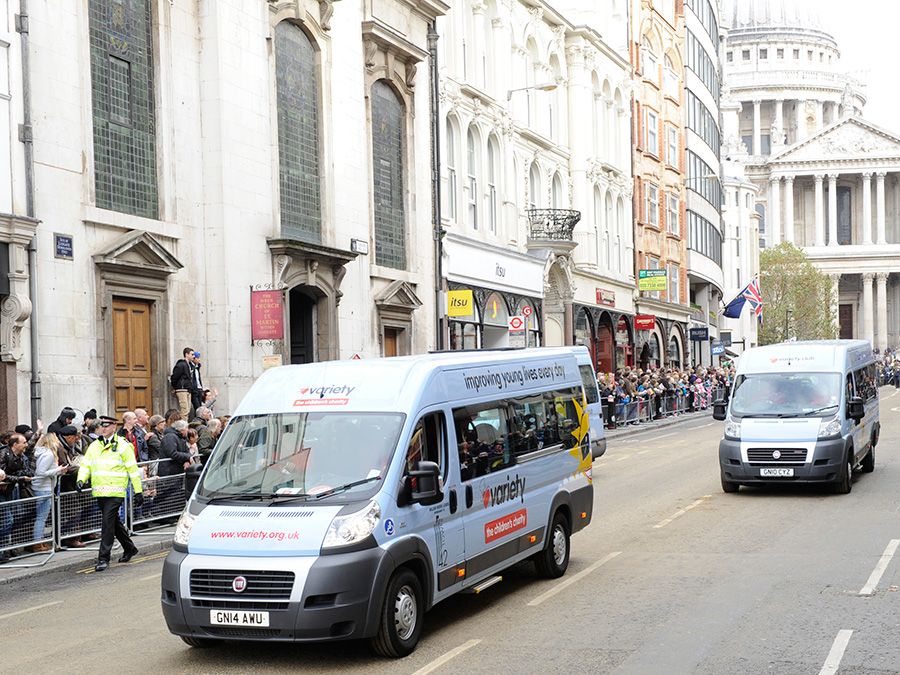 On Saturday 8th November, one hundred excited children and adults gathered at London Wall to take part in the 799th Lord Mayor's Show.
Generously sponsored by Fiat, this was Variety's 13th consecutive entry with our Sunshine Coaches and the 11th with Babette Langford's Youngset dancers leading our Float.
The Youngset have supported Variety for over 30 years raising enough money through their shows for 11 Sunshine coaches!!
The Dancers and Clowns, with unicyclist, Tyler Fagan, headed off with the children and teachers. Drivers from Meadowfields, Bradfields and Hornbeam Academy marched along behind. The Variety team comprised: former Chief Barkers, Ken Mustoe and Keith Andrews, and his wife Sue, plus Anne Anderson and Terry Prince from Sunshine Coaches and Will Watson, the youngest volunteer. Variety's Marshall, "Colonel Simon", kept our marchers moving swiftly along, waving to and interacting with the huge crowds lining the route.
The Float's very popular Mascot, Mr Sunshine, acknowledged the TV cameras, crowds and constantly snapping cameras, as he sat in style on the lead vehicle driven by Alan Radcliffe, behind which followed our three Sunshine Coaches.
A truly great day was had by all and was best summed up by Ryan from Hornbeam Academy ""This was the best day of my life! Can we do it next year?"