10th May 2016
Local Agents Clock Up The Miles For Variety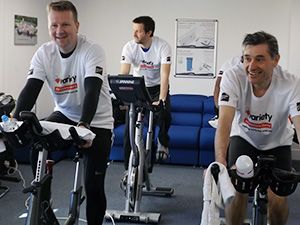 Bridgfords and Entwistle Green employees donned their lycra and #TeamEG T-shirts in order to complete a 481 mile Cyclethon Challenge (the distance from Lands End to John O'Groats). With the help of Lifestyle Fitness in Handforth, the cycle dream managed to raise close to £2,000 for Variety.
Photo: Sean Matley, Maciek Starczewski, Gareth Tait, Adeel Khan, Sion Williams, Michelle Mason, Craig Bray, Amanda O'Hara, Kieran Livermore, Simon Normanton and Lauren Hopkins
The teams, made up of members of staff from marketing, residential development, lettings, sales and a great number of good sports from the Cheadle Admin Centre. The Cyclethon which took place at Lombard House in Cheadle, and was supported by Lifestyle Fitness in Handforth who provided the four Spin bikes. Forrest Food in Rochdale supplied the all-important hydration and local sandwich supplier Sausilito, who kept energy levels up with plenty of sustenance.
All who took part entered the challenge with gusto and sheer determination and the challenge was completed in just eight hours – averaging 100 miles an hour and even clocking up an extra mile for good measure!
Organiser and Regional Manager Craig Bray commented:
"Although we have yet to tally the final amount, generous sponsorship across the company has seen us raise a fantastic £1,300 and with the help of staff at the Admin Centre who raised a further £500 through a dress down day and bake sale, we're close to almost doubling our initial target amount!
Lifestyle Fitness Club Manager, Jake Goddard, added:
"We're keen to be able to support local businesses and Variety, the Children's Charity. It's such a great cause."
Variety Northwest Development Director, Lyn Staunton concluded:
"We are thrilled with the funds raised across Bridgfords and Entwistle Green staff requipment. A massive thank you to everyone involved, especially to those who were drafted in last minute to support some of the tired cyclists from the morning shift!"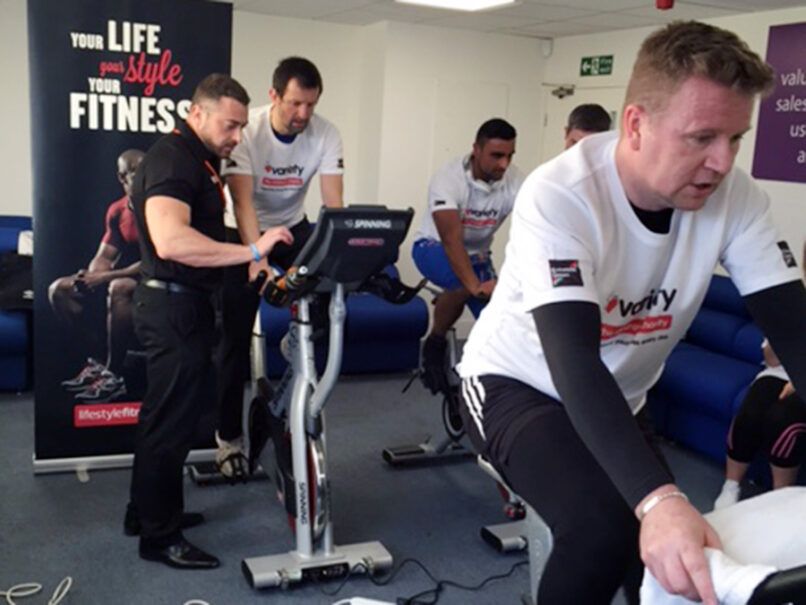 Photo: Jake Goddard from Lifestyle Fitness along with Maciek Starczewski, Adeel Khan and Craig Bray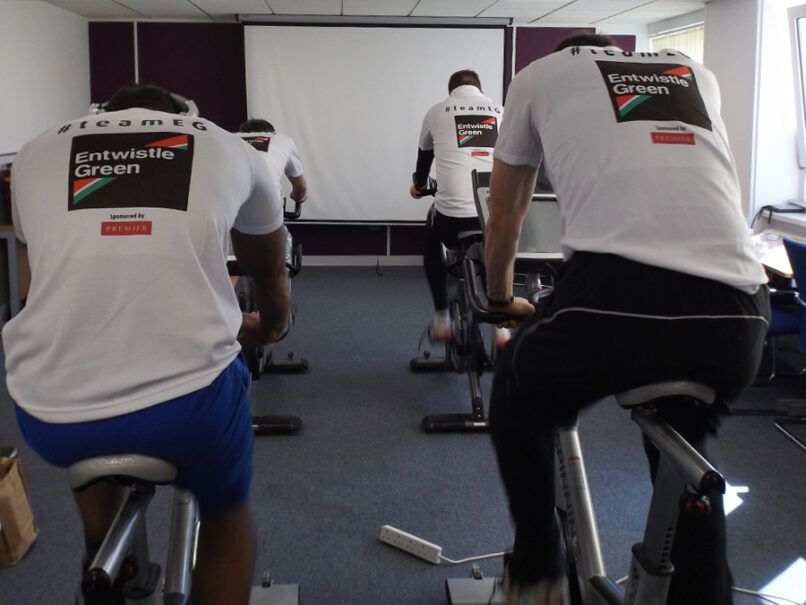 Photo: Kieran Livermore, Craig Bray, Adeel Khan and Maciek Starczewski