20th March 2014
Killik & Co Presents Sunshine Coach To Mapledown School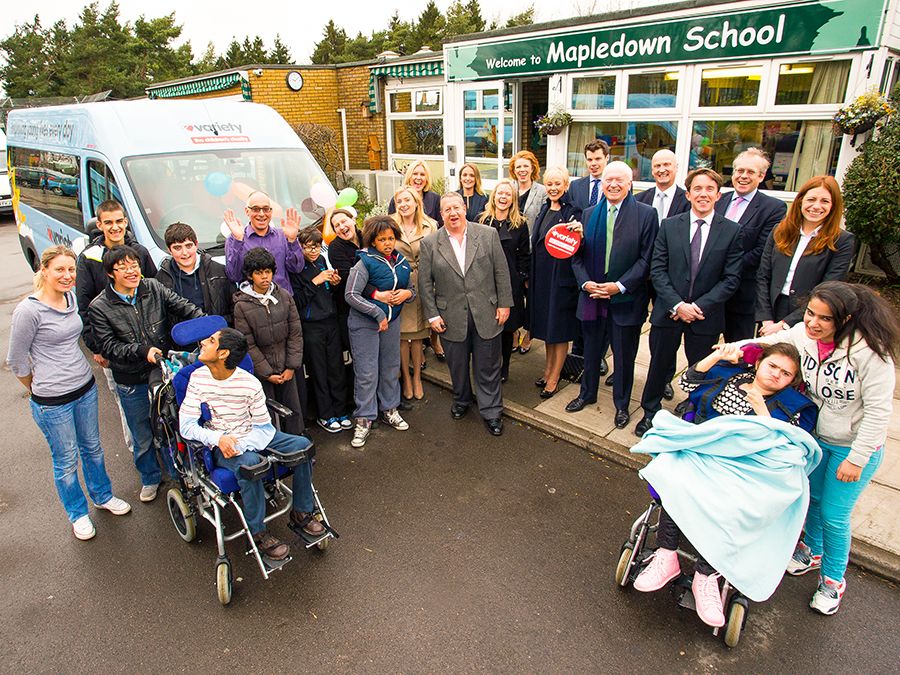 Investment Consultancy, Killik & Co, presents a much needed Variety Sunshine Coach – and now aims to secure a further £30,000 through partners Dan Dowding and Jer O'Mahony taking part in the world's toughest bike race, The Cape Epic Challenge, in South Africa at the end of this month.
The 65 pupils of Mapledown School in Barnet, North London, today celebrated receiving a Variety Sunshine Coach from investment consultancy firm Killik & Co. The coach has a tail-lift to facilitate wheelchair access and will be used to take the children on a variety of excursions, helping to improve their skills and confidence. Mapledown School caters for pupils with severe and complex learning disabilities and aims to help its students develop their communication skills, maximise their independence and broaden their range of experiences.
Jer O'Mahony, Killik & Co Partner, commented:
"The partners and staff at Killik & Co are delighted to support Variety, the Children's Charity, not only because of the enormous good it does to help children born with incredible challenges achieve their dreams and aspirations, but because we can see the tangible benefit of each and every pound we've raised be put to good use in the purchase of a Sunshine Coach. We are also enormously grateful to the generous donations from the Killik Charitable Trust and Sharegift in helping to reach our targets to make the Sunshine Coach for Mapledown School a reality".
Throughout 2013, Killik & Co staff took part in various fundraising initiatives for Variety, the Children's Charity. In particular, 19 staff members participated in the Royal Parks Foundation Half Marathon to raise the money required to buy the Coach for Mapledown School. Killik & Co's ongoing commitment to the charity will now see partners Dan Dowding and Jer O'Mahony take on the world's toughest bike race, The Cape Epic Challenge in South Africa, on behalf of Variety and the JAG Foundation. The pair aims to raise a further £30,000 to fund another Sunshine Coach and also provide an Eclipse Trainer Tricycle for Sharna-Marie McGinn, an 11 year old girl from Maidstone who has complex medical needs and associated mobility and sensory issues.
Senior partner of the firm, Paul Killik, and wife Karen presented the keys of the new Sunshine Coach to the school, commenting: "We are incredibly honoured to present this Sunshine Coach to the remarkable pupils of Mapledown School and can't think of a more deserving cause".
Steve Carroll, Mapledown School Head Teacher, commented:
"Having our own coach allows the children not only to experience activities which were previously inaccessible, but also to develop their confidence in travel. Our sincere gratitude goes out to the staff at Killik & Co and Variety, the Children's Charity, for the donation of this specialised vehicle, as it means a great deal to the teachers and children of Mapledown School."
Trevor Green, Variety's Chief Barker, said:
"To date we've been able to donate over 5,250 Sunshine Coaches to help children interact with the world around them and experience a fun, entertaining and educational environment, whilst ensuring they are transported as safely as possible. With the support of organisations like Killik & Co, we're able to continue to improve the lives of disabled and disadvantaged children and young people throughout the UK."
In the last three years alone, 60,000 young people have benefited from the increased freedom that a Sunshine Coach provides, and a further 24,000 trips are planned this year. For the schools and community groups who use Variety's Sunshine Coaches, it means much easier access to a whole range of activities, including sports, educational visits and community projects.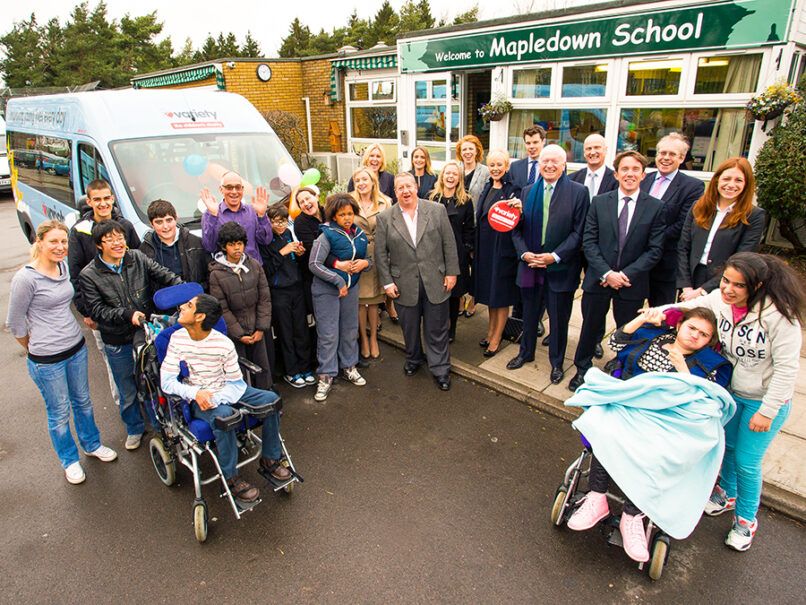 Photo (L to R): Students and teachers from Mapledown School, Laurence Davis, Karen and Paul Killik along with Killik & Co staff who raised the funds for the coach by running the Royal Parks Half Marathon.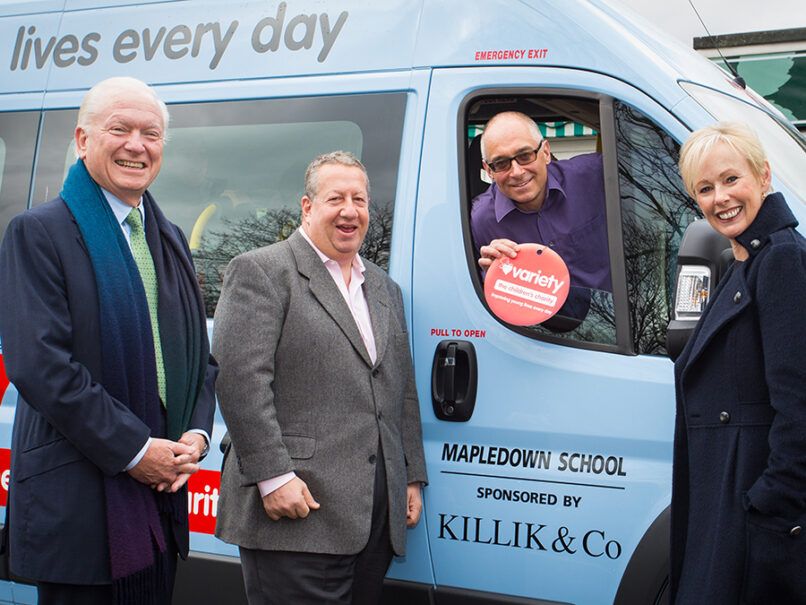 Photo (L to R): Paul Killik, Laurence Davis, Chairman of Variety's Fundraising Committee, David Aarons, Deputy Headteacher and Karen Killik.