26th April 2013
Kids Find Fun And Magic In The Beautiful Game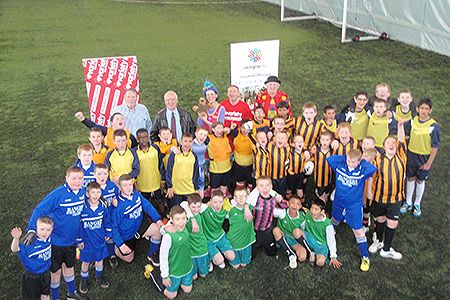 It was magic for nearly 150 youngsters from a dozen schools in and around Glasgow who played in the annual Variety Scotland 5-a-side Tournament on 18 April at the Toryglen Sports Centre. Magician Stevo, who'd just flown in from a big gig in Germany, and his colleague Tickles, entertained, while the teams in three age groups competed.
Variety Scotland Chairman, Iain Forbes and long serving Variety member Jack Zimmer were delighted with the turnout.
Iain said:
"We bring together kids from special schools and schools in less well off areas to compete in a friendly way in sport."
Class assistant, Evelyn Sim of Kirkrigg School in Castlemilk, said:
"This has been a fun day. The children had a great time and it generates a great team spirit."
Variety Scotland Coaches were on duty to take everyone home at the end. The charity, till recently called the Variety Club of Scotland, holds major events to raise funds for their work. Their annual race meeting will be in Hamilton on 23 August and they are already well ahead with plans for their St Andrew's Night Tartan Ball in November.
Iain Explained
"Volunteers do the bulk of the work, We have only two part time staff in a small office which is about to move to offices in Westerton."