7th August 2014
Jules Knight Joins Doctors And Nurses For Variety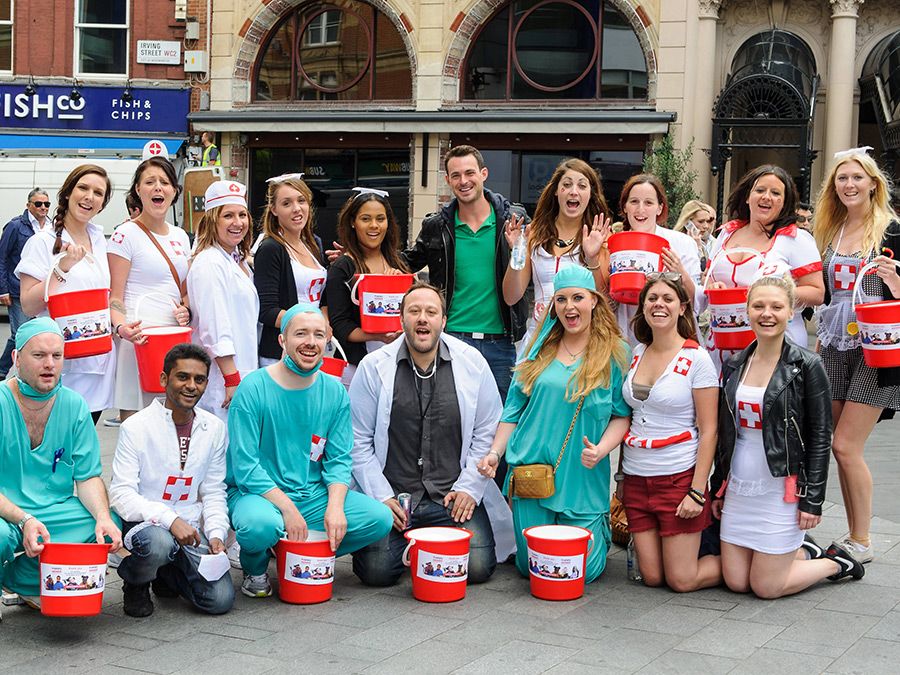 Over 30 Pub Managers from the City and West End took part in a 13-mile fundraising walk dressed as Doctors and Nurses to raise funds for Variety. Joining them at Leicester Square was Holby star, Jules Knight who plays Dr Harry Tressler in the hit BBC1 show.
Event organiser Paul McGilloway from the Duke of Somerset commented:
"We thought we would draw more attention and support by dressing up as doctors and nurses as we visited the twelve Stonegate venues in the city as well as famous landmarks including Tower Hill, Trafalgar Square, Oxford Street, The Strand and Capital Radio offices. It was a hugely successful day. We were overwhelmed by the generosity of people on the streets of London, who kindly donated loose change all the way round our walk. The highlight of the day was having Holby City's Jules Knight join us in Leicester Square to take our mind off the long shift – just what the doctor ordered"
Jules Knight commented:
"I am always pleased to be able to help Variety and to meet some of the charity's amazing supporters."
This London Pub Walk is just one of the amazing fundraising initiatives being carried out by Stonegate staff as part of Britain's Biggest Pub Tour, the first and largest pub tour ever attempted in the UK by a national pub operator. All of Stonegate Pub Company's 620 pubs and 12,000 employees are engaged with raising funds for Variety.