15th January 2014
JCoSS host Sunshine Coach Presentation for Richard Desmond and family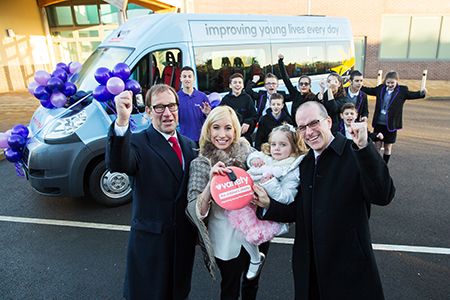 On 14th January 2014, JCoSS (Jewish Community Secondary School) received a brand new 14 Seater Variety Sunshine Coach. The coach was sponsored by Angel Millie Desmond through The Desmond Foundation.
This is the second Sunshine Coach sponsored by Angel Millie Desmond in the past three years. Angel Millie's father; Richard Desmond is a valued supporter of Variety and the Sunshine Coach Programme in particular.
JCoSS is the UK's first Jewish, cross-communal, state funded, secondary school, catering on an equal basis to the needs of the entire Jewish community.
The school is expanding one year at a time so that, by 2017, it will have 1310 places made up of 180 students (six forms of entry) in each year group, and a further fifty in the Special Resource Provision for students on the autistic spectrum.
The Variety Sunshine Coach will be used to transport students with autism and special needs to sports fixtures and school trips. These students often find it difficult to use public transport in large groups with the rest of their classmates.
The coach will enable them to take part in activities without the stress and anxiety of the journey, to and from the venues.