28th November 2013
Jason Manford helps to present Sunshine Coach to Sutherland House School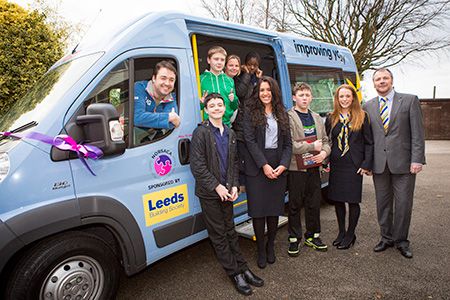 The Sunshine Coach which has been sponsored by Leeds Building Society, will offer the children and young people the opportunity to experience the outside world in a safe and secure way through a number of trips and activities. The coach will be used every school day and during afterschool and holiday clubs.
Martin Richardson, Leeds Building Society's General Manager – Business Development said:
"We are very proud to be sponsoring this Variety Sunshine Coach. We are delighted to offer support to disadvantaged children and young people who deserve to participate in every aspect of school life and to spread their wings into the community. This coach will enable them to do this."
Commenting on his involvement, Jason Manford said:
"I am particularly pleased to be able to present the coach to Sutherland House School, which does such a fantastic job providing specialist education for so many children with autism. Through friends, I have an understanding of how complex a condition autism can be and how important specialist provision is to children, parents and families."
Sutherland House School is a specialist day school run by NORSACA for pupils and students with autism. The school operates across five sites in Nottingham providing education provision for up to 94 pupils and students between the ages of 3 and 19.