4th March 2014
International Wheelchair Day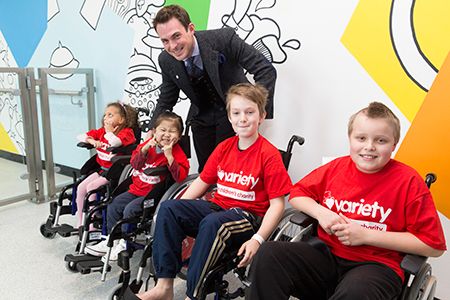 To launch our marking of the milestone of 25 years of the Variety Wheelchair Programme, and to coincide with International Wheelchair Day on March 1st, Variety donated five wheelchairs to the Variety Children's Hospital at King's College London. These are the first of 25 wheelchairs to be donated as part of this special anniversary; the remainder will go to other worthy recipients all round the country. HOLBY CITY star Jules Knight (Dr. Harry Tressler in the series), alongside Variety's Chief Barker, Trevor Green, and Pamela Sinclair, Chairman of Variety's Wheelchair Programme, presented the wheelchairs to pioneering Paediatric Liver Consultant Professor Anil Dhawan and a group of young patients.
More than 4,000 wheelchairs have been donated by Variety in the 25 years of its Wheelchair Programme. This latest donation demonstrates the charity's continued commitment to enhancing the lives and mobility of children and young people throughout the UK.
The Chief Barker, Trevor Green, said:
"No-one should underestimate just what a milestone this is. To have improved the lives of more than 4,000 children and young people by providing them with top quality and customised wheelchairs is a major achievement – and a testament to the commitment and hard work of all the members of Variety's Wheelchair Programme's committee. And, of course, their excellent work is continuing."
Pamela Sinclair said:
"This donation to King's exemplifies the breadth and range of Variety's Wheelchair Programme. The majority of the more than 4,000 wheelchairs that we've now provided to children and young people all round the UK are for individuals, but this was an opportunity to help many children – all at the same time. We know that the hospital's funds are limited and this was a way of helping King's to make its amazing care for children even more effective. These five chairs, which will be used to get children around the hospital, for example to X-Rays, will be invaluable, not just to the patients at Variety's Children's Hospital at King's but to the staff too. The wheelchairs will make everyone's life easier and the children's hospital stays more comfortable – and will do so for many hundreds, possibly thousands, of children over the years to come.
HOLBY CITY star Jules Knight said:
"I was honoured to be asked to present these wheelchairs on behalf of Variety, the Children's Charity. My experience on HOLBY CITY has led me into contact with many wonderful hospitals and the dedicated staff who work tirelessly to make their patients' lives better. Donations like this are crucial to the ongoing success of facilities such as the Variety Children's Hospital."
The Variety Children's Hospital, based in the Cheyne Wing at King's College Hospital, treats and cares for more than 40,000 sick children each year. Featuring a dedicated critical care centre, a day care unit and the world's largest children's liver unit, the hospital's state-of-the-art facilities are saving and changing lives.
Professor Anil Dhawan, Consultant Paediatric Hepatologist at the hospital, commented:
"Donations such as this are utterly crucial as they make it easier for the staff here to continue the fantastic work that they undertake every day. In these tricky economic times the essential work and unceasing support of Variety over the many years is appreciated more than ever, and all of us here at King's are extremely proud of the strong relationship between the charity and the hospital."