14th September 2012
In A Galaxy Far, Far Away At BGC Charity Day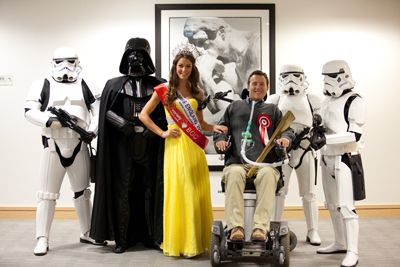 Stars of stage, screen and sport took part in the 11th BGC Charity Day to support selected charities and mark the anniversary of 9/11. Variety was delighted to once again be invited to attend the fundraising day and it was a pleasure to welcome Sir Roger Moore to join us for the event this year.
The James Bond actor took to the phones to close a number of deals with his distinctively smooth voice and was a very popular celebrity during the day. Mr Bond was well protected during the event as we had our rather unique supporters, Darth Vader and the stormtroopers, parading through the offices throughout the morning.
The event kicked off with a tasty treat for the tenacious traders in the form of bacon sandwiches, thanks to our corporate supporter, Tulip Ltd.

Providing a bit of glitz and glamour to the event was our good friend reigning Miss England, Charlotte Holmes, who found it easy to look both beautiful and show off her brains by finalising some deals while dressed in a suitably sparkly dress teamed with glittery heels and crown!
Our Variety ambassador, Matt King OBE, brought along his Olympic Torch to show the traders and both him and 16 year old, Megan, were quick to ask for photos with some of the other stars of the event including Olympic champion, Mo Farah, and Formula One racing driver, Lewis Hamilton.
Megan, Matt and Matthew (in the photo above) are recipients of the Variety Wheelchair programme it seems very fitting that the money raised from this year's event will support our work in this area with the aim of inspiring young people to become Paralympic stars of the future.
Thank you to everyone who supported the event and to all at BGC Partners for making it another fun-filled day!