21st June 2013
High Flying Heavyweights Weigh-In For Charity Slimming Challenge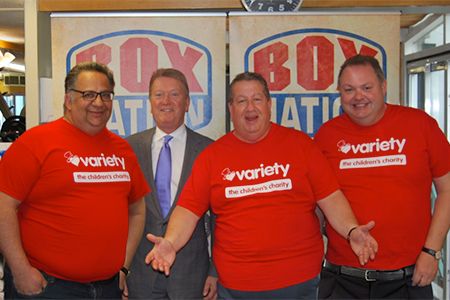 High flying heavyweights in the world of business have decided to become a little lighter in aid of Variety, the Children's Charity : Christophe Van Gool (MD, ARX Risk Strategy), David Kahn (CEO, DPK Property Group), Laurence Davis (CEO, Conduit Investments and Variety's Chief Barker), Nic Wing(Owner of Cities in Sound).
The weigh-in on Thursday 13th June was held at London's Radisson Portman Hotel, Club 22 Fitness Gym and was supervised by international boxing promoter Frank Warren.
Commenting at the weigh-in, Laurence Davis said:
"Frank Warren has managed many successful heavyweights, so I am hoping some of his magic will help improve my waistline….. if not my right hook."
Each of the slimmers is raising money through sponsorship. Laurence Davis announced that he has already secured several sponsors. One of them will donate £100 for every 1lb Laurence loses. "I am targeting to lose 50lbs by the end of the year" said Laurence, "so if I go the distance, one sponsor alone will have helped me raise £ 5,000 for Variety."
Every year Variety helps tens of thousands of children by providing practical help in the form of bespoke wheelchairs, Sunshine Coaches, and great days out. Sponsorship will not only spur on the slimmers to meet their challenge, but enable Variety to meet an even bigger challenge; supporting the growing waiting list of children who need the really practical and meaningful help that only Variety provides. It's help that really does improve young lives every day.
If you want to support this great cause, just choose your champion slimmer and pledge your sponsorship donation by signing up on his Virgin Money Giving page at www.virginmoneygiving.com