19th December 2013
Gulliver's Theme Park Brings A Smile To Over 1200 Children And Carers This Christmas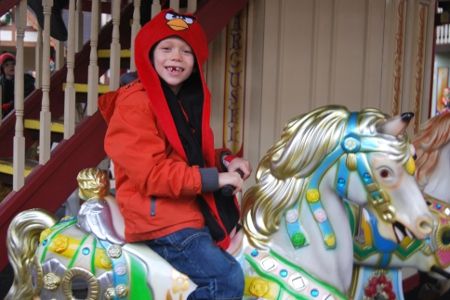 Christmas fun started early for Variety Children at Gulliver's which included a pantomime, fairground rides, Christmas show, lunch and a visit to Santa's grotto where each child choose a gift of their choice.
The sponsors of the day were 'Tulip Ltd' who attended and experienced the fun filled activities and magical atmosphere created by the children.
Deborah Cavil, Greenwich Toy Library said:
All the children and parents from Greenwich Toy Library had a lovely festive visit to Gulliver's Land . On the way,we sang Christmas songs just to get us all in the mood. The children loved the visit to Father Christmas and we could not fault the customer service; staff were so very kind and considerate that we were one of the last groups to leave (with one child in floods of tears!) which meant we got to see all the Christmas tree lights as we headed back to London. Thank you for a perfect day.
Jenny, Inglehurst School:
Just wanted to say a big thank you from everyone at Inglehurst Junior School for our fantastic day out on Friday. Everyone had a wonderful time and we really appreciate the effort put in by you all to make the day special for our children.
Anne Oke, Southfields School said:
Thank you very much for all the hard work that you and your team at Gulliver's did to make the Variety At Gulliver's day such a good one. You even provided sunshine! The children thoroughly enjoyed themselves, our visit to Santa was a very special moment.
File: