9th October 2015
Fundraisers Make a Splash!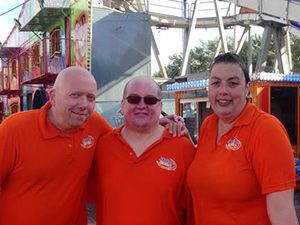 As part of The Bingo Association's national fundraising activity, staff members of the Apollo Club in Rhyl, part of Majestic Bingo Limited, have jumped on board a log-flume to tackle a day long, water-logged fundraising challenge!
Robert Down, Michelle Boulton and Jason Boulton took to the plunge and raised a whopping £3500 for Variety with fundraising support from Majestic Bingo players, staff, friends and family.
Despite log-flumes being well known as fun theme-park rides, it was a long, wet and cold day so the challenge itself wasn't easy, especially as they weren't wearing wetsuits to keep warm!
Variety asked the Majestic Bingo team what made them decide on such a challenge, to which they replied:
"We decided on the sponsored log flume as it was something different, plus the theme park is close to our Bingo club.

It was ok for the first couple of hours then the numbness and cold set in. For the last hour we just focused on getting to the finish line! We think it's such a worthwhile cause and we're grateful to all our customers for their support and generosity."
We can't thank Robert, Michelle and Jason enough for their amazing fundraising for children in great need of Variety's support.
Many thanks to Majestic Bingo, The Bingo Association, all of their generous staff and wonderful bingo players!