22nd January 2014
Football Legend Sir Alex Ferguson – Top of The League Again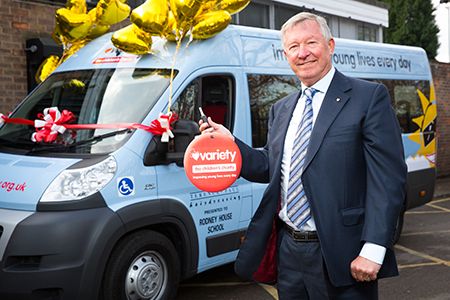 Sir Alex Ferguson presented a Variety Sunshine Coach, sponsored by Terence Paul Hairdressing to Rodney House School, Manchester on 21st January 2014. The School provides early years' support for 34 children whose development is causing concern.

The coach will be used to transport the children on a variety of excursions which will help develop their skills and confidence in accessing the world. North-West-based Terence Paul Hairdressing raised £27,000 at its annual Terence Paul Charity Golf Day to buy the specially-adapted vehicle.
Sir Alex, one of the most successful, admired and respected managers in the history of football commented:
"I am incredibly honoured to present this Sunshine Coach to the remarkable pupils of Rodney House. It's a pleasure to see how a donation of this kind can make such a difference. The work of Variety, the Children's Charity, and the kindness of Terence Paul Hairdressing has ensured that these children can continue to enjoy regular extra-curricular activities."
Terence Paul Hairdressing started raising funds for Variety after its Founder, Terence Tierney found himself in a queue of traffic and behind an older Variety Sunshine Coach. When he received a thumbs-up from a happy boy on the Coach, he immediately vowed to raise money for Variety.
Terence Tierney commented:
"We're delighted to be donating our second Variety Sunshine Coach to such a fantastic school.
Nuala Finnegan, the Head Teacher of Rodney House, commented:
"Not only will it save us in the region of £20,000 a year on transport but it means that we can continue to ensure we offer a broad and flexible curriculum which meets the educational, social and emotional needs of each individual child."
In the last three years, 60,000 young people have benefited from the increased freedom that Sunshine Coaches provide. The coaches provide much easier access to a whole range of activities, including sports, educational visits and community projects.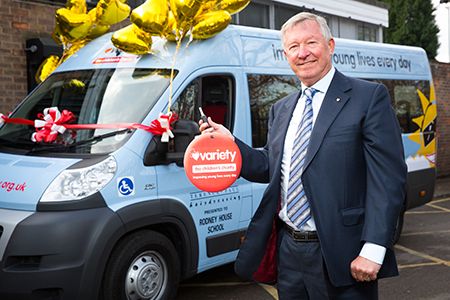 Sir Alex Ferguson with the keys to the new Sunshine Coach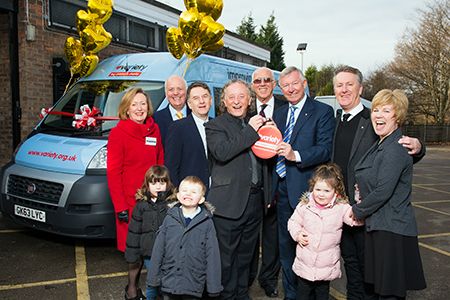 Sir Alex Ferguson and Terence Tierney hold the keys to the Sunshine Coach and are joined (L to R) by Susan Craig and Mike Morrison from Variety's Northwest Committee, Stuart Cookson from Terence Paul Hairdressing, Malcolm Brenner, ex-Chief Barker, Variety, Stuart Kirkham from Terence Paul Hairdressing, Hazel McCall, Head Teacher from Rodney House and children from the school