20th December 2012
Final Crew Meeting of 2012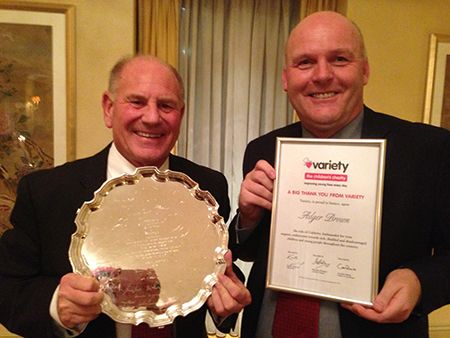 Tuesday 18th December was the final Crew meeting of 2012 and Keith Andrews chaired his last meeting as Chief Barker. At dinner the Crew presented Keith with the traditional silver salver, engraved with the signatures of all its members to thank him for his hard work and leadership in 2012.
Also at the dinner Variety recognised Adger Brown as a Celebrity Ambassador for all his fantastic support over many years.
Adger said:
"I am very honoured to receive this. I love Variety, the Children's Charity, and all it stands for. To be recognised in this way makes me feel very proud. It is the best children's charity in the world !"
The Crew then enjoyed a few hilarious jokes by Adger, to end the fun filled dinner. Merry Christmas Keith and Sue and a huge thank you from all at Variety.