10th May 2022
Errol Kennedy from Imagination powers through Marathon walk to promote Drumathon Fundraiser
London and the South East
Fundraising
Sporting challenges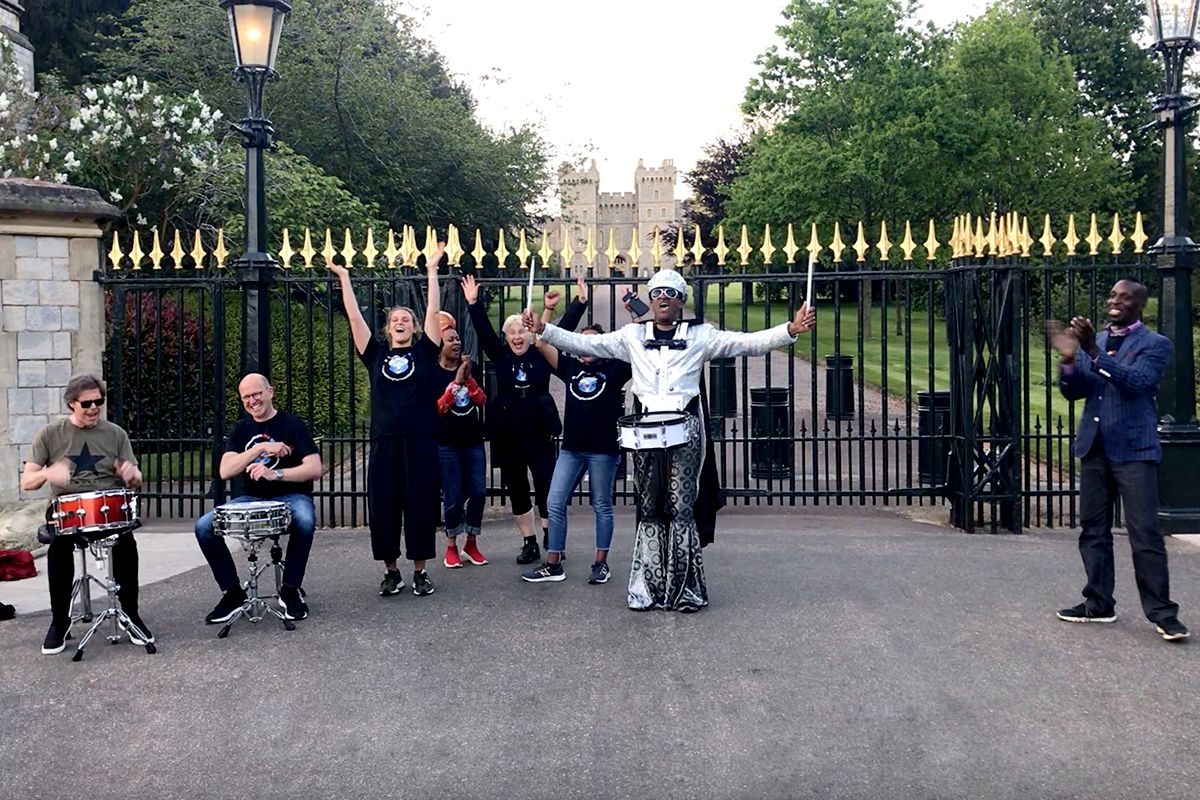 Errol, 68, strode out in a silver stage costume and banged a snare drum as he completed his marathon walk from Hackney to Windsor.
The musician, a Top of the Pops regular in the 1980s with hits including Body Talk and Just an Illusion, set off at 7 am from St John's Church in Hackney. He was waved off with a blessing from the rector and well-wishers from local youth group The Pedro Club.
Striding through Covent Garden, Kensington and along the Great West Road, Errol was joined by fellow drummers and supporters from Variety, the Children's Charity before an evening finale on The Long Walk near Windsor Castle.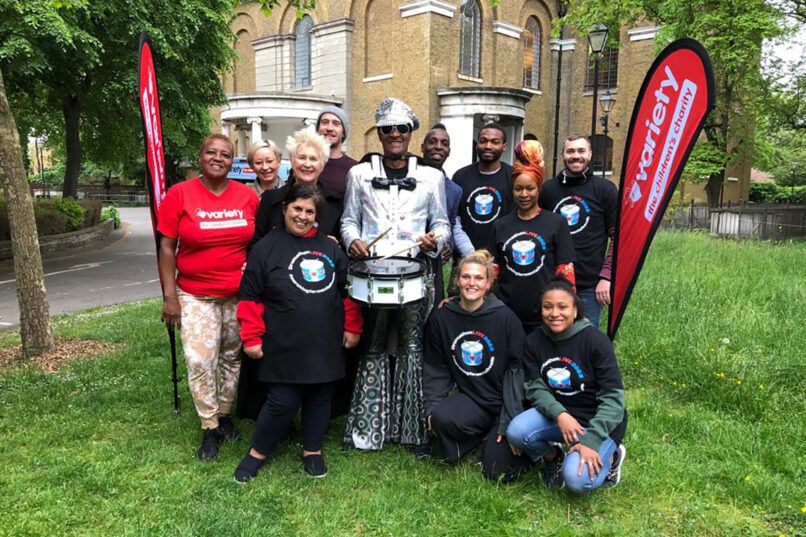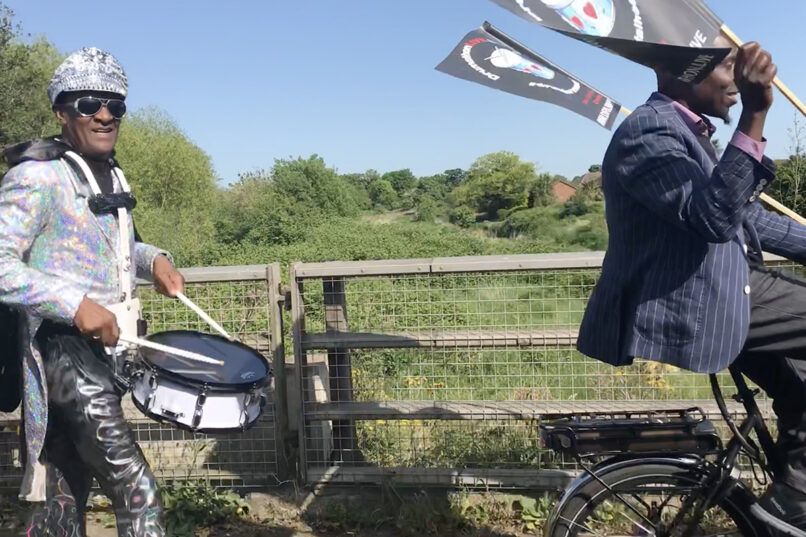 I've got so many great memories from the day of walking and drumming and meeting lots of people. In the morning I'm sure my drum woke people up after late nights in Theatreland!

Later, it was fantastic to play to crowds in the West End and Knightsbridge and see kids' faces light up, and dancing on the streets with my brilliant support crew was something I won't forget.

I'm almost at the end of my swinging sixties so I had to prepare properly for the walk. It was tough though walking along the Great West Road and the Thames Valley so finally reaching the great gates of Windsor Castle was the best feeling ever.

But it was all worth it to create attention for DrumathonLIVE – the world's first global live-streamed drumming fiesta, with great drummers raising funds for children's mental health.

Errol Kennedy
DrumathonLIVE 2022 takes place from 14-21 May and will see musicians and personalities drumming non-stop for 250 hours for charity. It's the creation of Errol and fellow musician Bev Sage, founder member of the Techno Twins, who started the annual event during lockdown in 2020.
To date, it has raised over £160,000 for children's and mental health charities. DrumathonLIVE also inspired and took part in the 2021 BBC Children in Need Drumathon, featuring TV weather presenter Owain Wyn Evans, which raised over £3.8million.
More about Errol
Errol Kennedy's drumming roots began in Jamaica's carnival and marching bands and then in Britain's Boys Brigade and Air Training Core – prepping him for a musical career that officially began during the early 1970s. In London's jazz-funk years Errol was a founding member of bands TFA, then TFB Central Line, and Midnight Express.
In 1980 he co-founded Imagination with Ashley Ingram and Leee John. Errol's songwriting and groove drumming was a vital element in Imagination's success and this along with the bands outrageous dance moves meant he could no longer be contained behind the drum kit; his inner showman was unleashed.
Throughout the 1980s the legendary trio danced, sang, and wowed audiences worldwide. Beyond the glory days of Imagination, Errol worked with Hugh Masekela at Bray Film Studios producing the soundtrack for the movie Soweto. He also produced and played for bands such as Odyssey, Shalamar, Rose Royce, Grace Kennedy, Jamiroquai, Frankie Knuckles, Arthur Baker, and Colonel Abraham.
On 7 April 2020, at the start of the Covid-19 pandemic, Errol drummed for 24 hours to support the NHS. Then, with fellow musician Bev Sage of The Techno Twins, Errol co-founded DrumathonLIVE, creating the first global drumming live-streamed charity event in May 2020 – a 250-hour, non-stop drumming fiesta like no other.
More about DrumathonLIVE
DrumathonLIVE 2022, the global event for all drummers, is set to raise awareness and funds for mental health charities. The event will be live-streamed at www.drumathon.live for a full week from 14-21 May 2022.
DrumathonLIVE to date has featured an epic list of high profile drummers from bands such as Coldplay, Kaiser Chiefs, Depeche Mode, Imagination, Culture Club, The Cure, Girls Aloud, Tom Jones, Madonna, Kasabian – and this year the event is set to beat all records.
The 2022 lineup so far includes Richard Jupp (Elbow), Jason Cooper (The Cure) Cherisse Osei (Simple Minds), Matty Brown (Stomzy) Derrick McKenzie (Jamiroquai), Nick Hodgson (The Kaiser Chiefs) Aicha Djidjelli and Holly Madge fresh from the amazing Hans Zimmer tour, Mike Malyan (Monuments), Charlie Morgan (Elton John's Live Aid drummer), Raghav Mehtrora from NYC, We.Are.Alien., the legendary Andy Gagandeen, and many more superstar drummers to be announced soon.
Also performing will be thousands of semi and pro drummers who will contribute to 250 hours of non-stop drumming.