31st October 2019
Dante, Variety's remarkable Young Ambassador, wins Pride of Britain award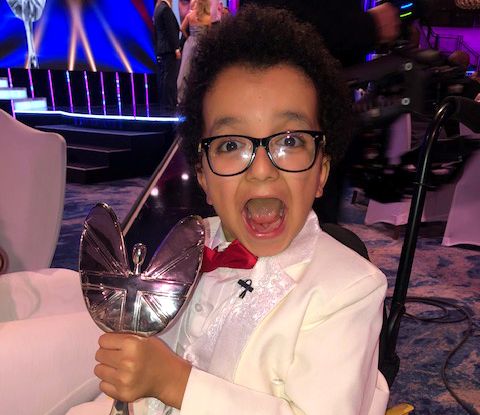 Dante was born with brittle bone disease and scoliosis and has broken 92 bones to date. He has spent much of his young life in and out of hospital for treatment, including painful rod replacement surgery in his legs over the summer. A wheelchair that was unsuited to his tiny frame compounded his difficulties, and this led his mother to approach Variety to fund a bespoke wheelchair in 2018. Impressed by Dante's optimism, indomitable spirit and remarkable zest for life – despite his many challenges – Variety invited him to become a Young Ambassador.
Since then, Dante has poured his energy into being a powerful advocate for other disabled and seriously ill children, raising £30,000 to fund one of Variety's Sunshine Coaches, visiting other children in hospital and spreading his message that 'there are no disabilities, only abilities'. In recognition of his work, Dante was named Child of Courage at the 2019 Pride of Britain Awards.
We are immensely proud of everything that Dante has achieved. However, there are many more children like him that need our help. Recent figures show that there are now around 1.3 million disabled children and young adults in the UK, and that figure is set to increase. Your support will help us reach more children like Dante. Please make a donation here.