8th June 2012
Cricket Star Supports Variety South West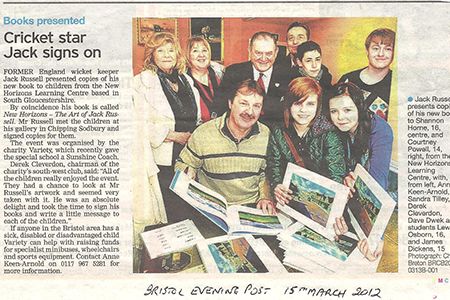 Former England wicket keeper, Jack Russell, presented copies of his new book to children from the New Horizons Learning Centre based in South Gloucestershire.
Mr Russell met the children at his gallery in Chipping Sodbury and signed copies of his new book which is coincidentally called, 'New Horizons – The Art of Jack Russell'.
The event was organised by Variety South West as we recently presented a new Sunshine Coach to the centre.
Derek Cleverdon, Chairman of Variety South West, said:
"All of the children really enjoyed the event. They had a chance to look at Mr Russell's artwork and seemed very taken with it. He was an absolute delight and took the time to sign his books and write a little message to each of the children."
Variety South West would like to thank Jack for his support!