5th July 2012
Comedian Visits Somerset School To Present Variety South West Sunshine Coach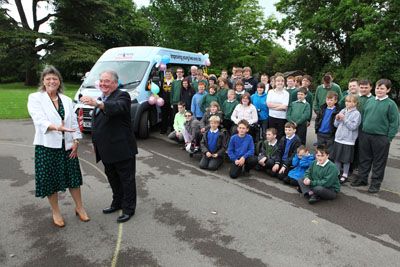 Elmwood School in Bridgwater, Somerset, were presented their brand new Variety Sunshine Coach by comedian, Eddie Large, thanks to sponsorship from the Elizabeth and Prince Zaiger Trust.
The 17 seater minibus will be used to take students for swimming lessons in Wellington, outdoor activites at local centres and other trips to enrich their educational experience.

Caroline Fuller, the school's business manager, said:
"It's caused much exciement and the children, particularly the younger ones, are very keen to be out and about in it." "The bus replaces an older, slightly smaller minibus that Variety, the Children's Charity, had previously given us."
Comedian Eddie Large, best known for his television show as a part of duo, Little and Large, that ran for many years during the 1980s and 90s, was on hand to deliver the new set of keys to the school. Eddie is a local South West resident and has many a great supporter of Variety for many years. Caroline said: "The children were very excited when they found out he is famous from being on television. He was extremely kind to the children and very interested in the school." Variety and Elmwood School would like to thank the Elizabeth and Prince Zaiger Trust for their sponsorship of this coach.