28th August 2013
Classic Car Fans Rally Round To Raise Over £20,000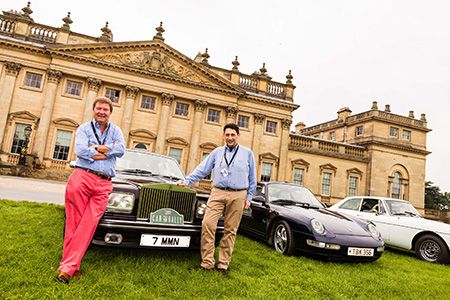 An impressive collection of classic cars gathered in Yorkshire (Wednesday 28 August) to take part in the Variety, the Children's Charity, 2013 Classic Car Rally with the aim of having fun and raising funds to make a difference to the lives of local disabled and disadvantaged children.
Vehicles travelled from as far afield as the Isle of Man and the impressive list of entries included Bentleys, Rolls Royce, Porsche, AC Bristol, Aston Martin, Jaguar E-type, Triumph, MGB's.
The rally entrants also included a Jowett Jupiter, a British car which was produced by Jowett Cars Ltd of Idle, near Bradford. The car was launched at the London Motor Show in October 1949.
After arriving at Harewood House, the drivers departed for Elvington to visit the Yorkshire Air Museum where the car owners had a photograph taken in their cherished vehicles with a Spitfire plane.
The next stop was Castle Howard where the rally participants were greeted by the Hon Simon Howard who inspected the vehicles. After lunch the cars motored on to Dalton-on-Tees to experience the thrill of driving round the Croft motor racing circuit.
The day was rounded off by a leisurely drive to Ripley Castle for a reception and dinner hosted by Lady Ingilby who also conducted a charity auction and presented Jeroboams of champagne to the 'Best Turned out Cars'.
The evening event was compered by Variety Yorkshire committee member, actor Frazer Hines, who is best known for his roles in Doctor Who and Emmerdale.
Yorkshire Variety committee member and lead organiser of the rally, Stephen Bolton said:
"This is the second car rally we have held and once again we are extremely grateful to everyone who helped to make the event such an enjoyable day and raised over £20,000 for special children."