7th November 2013
Citygrove And L&G Property Climb The Heights For Children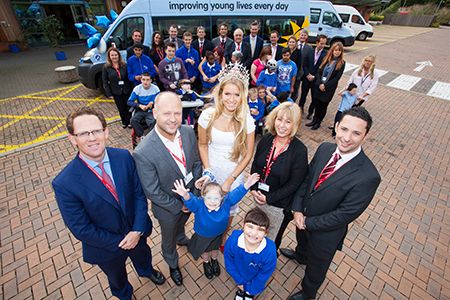 In May, an intrepid team of 12 from property development company, Citygrove, and property fund manager, Legal & General Property, joined forces to make an ascent of Mt Toubkal – the highest mountain in North Africa at 4,167metres. By doing so, they raised the magnificent sum of £52,000, which has funded two Sunshine coaches, for Pioneer School in Basildon and Shooter's Hill School in Woolwich.
Citygrove has now been involved in sponsoring a total of 52 Variety Sunshine coaches. However, an even more impressive number is the thousands of disabled and disadvantaged children whose lives have been immeasurably improved through outings in the coaches, whether educational or recreational, over many years.
Chairman of Citygrove, Toby Baines said:
"This was a huge team effort and we have been overwhelmed with the generous support of all our sponsors. We are delighted that we have raised enough for two specialist mini-buses for this fantastic children's charity."
Bill Sangster, Chairman of Variety's Sunshine Coach Programme commented:
"Variety is entirely reliant upon the kindness of individuals and companies to fund our vital work. By donating these two coaches, Citygrove now join only 5 other organisations who have donated more coaches in the past 50 years. We simply can't thank Citygrove and their partners Legal and General enough"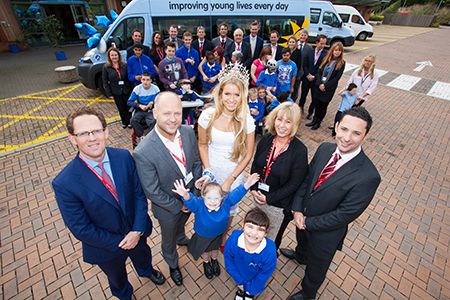 Representatives from Citygrove and Legal & General Property are joined by Miss England (Kirsty Heslewood) and delighted pupils and teachers from Pioneer School, Basildon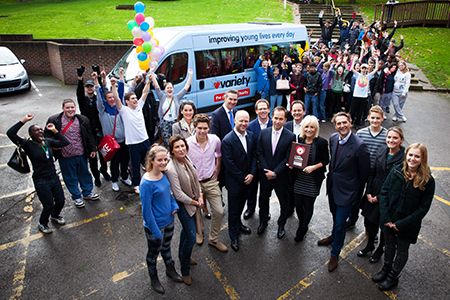 Teachers and pupils of Shooter's Hill School and Variety Ambassador Michelle Collins, join some of the 'climbing team' including Bill Hughes, MD of Legal and General Property and Toby Baines, Chairman of Citygrove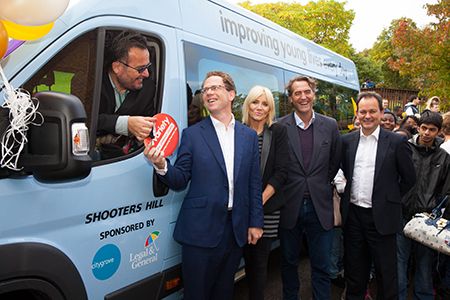 Head Teacher of Shooters Hill, School Steve Bradbury, is thrilled to be handed the keys of the coach by Bill Hughes and Gordon Aitchison, from Legal & General Property. They are joined by Michelle Collins and Toby Baines.