11th December 2014
Christmas Lunch Party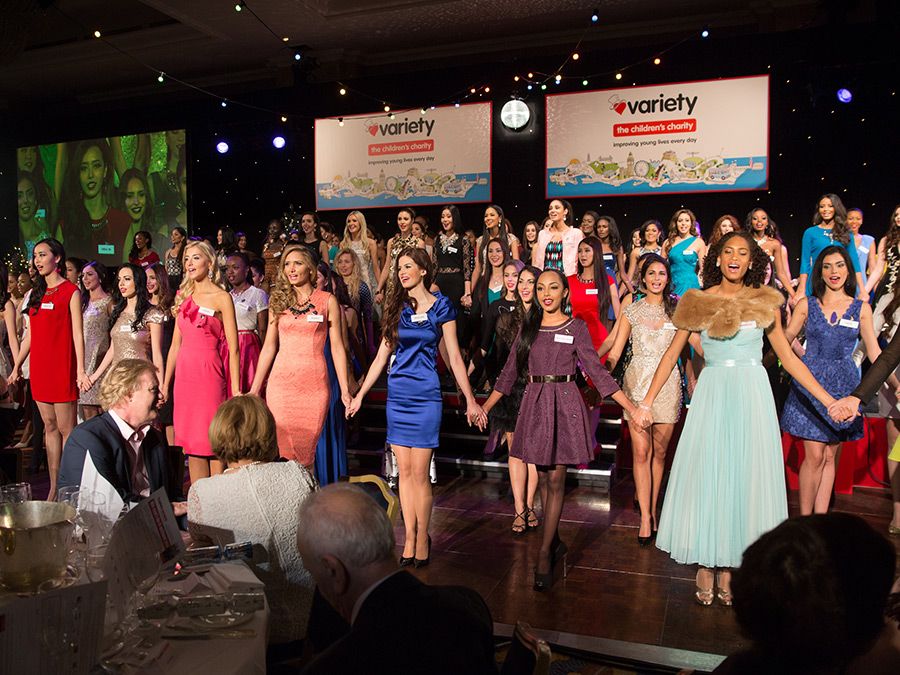 Another highly successful year for Variety culminated in the fabulous Christmas Lunch Party on Tuesday, 9th December at the Hilton on Park Lane. Thanks to all of our wonderfully supportive guests, phenomenal entertainment from great performers, auction and raffle prize donors and breath-taking speaker Matt King OBE, we raised an incredible £50,000 for children all over the UK who have to cope with sickness, disability or disadvantage.
The event began with a champagne reception in the Wellington and Harvest room, after which the 650 guests enjoyed an afternoon packed with first class food and entertainment in the hotel's Grand Ballroom. The entertainment started with all 130 Miss World 2014 National Finalists performing the very moving Miss World song, "Light The Passion – Share The Dream".
This was followed by a spell-binding performance by Taboo ("Britain's Got Talent" semi-finalists), the street dance troupe consisting of children aged from 9 to 15. Master Magician Matt Daniel- Baker mesmerised the audience with a superb display of mind-reading, and many guests are still asking "How on earth did he do that?!". The finale was presented by the whole cast of "Mamma Mia!", not just performing a medley of the big Abba hits from the show, but also delighting everyone with a magnificent 25-minute "Celebration of Christmas Music" which they had devised especially for Variety – and specifically for this event.
With social media playing its part in our Christmas Lunch for the first time, guests had the chance to 'tweet' live from the event and take part in our "Forget the Selfie, take an Elfie" campaign. Promoting awareness of Variety, we reached an audience of more than 1.5 million people outside the room – around the world!
Our auctioneer Adger Brown ignited a fiery live auction which raised more than £15,000. The lots included a private box at the Royal Albert Hall, a luxurious trip to Rickety Bridge in South Africa, a stay at the Hilton on Park Lane with complimentary tickets to Mamma Mia! and dinner before or after the show ….. and a private dance lesson with "Strictly Come Dancing" stars Kevin Clifton ("Kevin from Grimsby") and Karen Hauer – and a private lunch with them!
At the end of the afternoon, we said a huge "Thank you" to Trevor Green who has worked so hard during this year as our Chief Barker – and welcomed our Chief Barker for 2015, Jason Lewis, wishing him a successful and enjoyable year ahead.
So much of the feedback so far has been that this was the best Variety Christmas Lunch ever!
Co-Chairs and Co-Producers of the event, Tony Hatch and Rod Natkiel, sincerely thank everyone involved in making the Christmas Lunch Party such a success! The next lunch has already been booked …. so see you all on Tuesday, 8th December 2015.