22nd February 2013
Charity Gives Local Children's Centre A 'Push Start'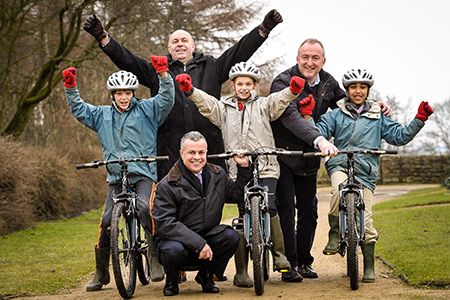 The Yorkshire committee of Variety, the Children's Charity, has donated 12 brand new bicycles and equipment to Lineham Farm Children's Centre in Eccup, near Leeds, which provides activity holidays for deserving and disabled children.
As well as six specialised Hotrock bikes and half a dozen mountain bikes, Variety also provided funding for helmets and a wheel jig for repairing the bikes. The bikes and equipment were all supplied at cost by the Bike Shop located in Crossgates, Leeds.
The owner of the shop, Richard Crawford, said:
"It's very satisfying to know that we have helped to provide youngsters with the opportunity to experience the exhilaration of cycling in the Yorkshire countryside."
Clare Beard, fundraising co-ordinator at the Farm, explained:
"Lineham Farm plays host to 24 children from local primary schools every week, some of them on residential courses and others as day visitors. The bikes play an important role in getting the youngsters out and about, and the ones we have been using for several years are starting to show their age. The new bikes are brilliant and we are, once again, very grateful to Variety for providing the funding and arranging the purchase of the bikes and equipment."
Ian Leach, Chairman of the Yorkshire committee of Variety, the Children's Charity, said:
"As a charity, we aim to make a difference to the lives of disadvantaged youngsters, and this donation is the latest of many we have given over the years to help support Lineham Farm, We are confident that the bikes will add to the children's enjoyable and rewarding experience of visiting the centre.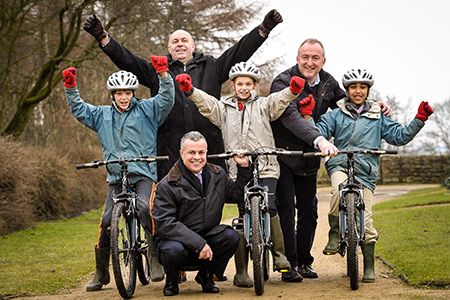 Pupils from Mill Field School, Leeds with (l-r) Ian Leach, Chairman of Variety Yorkshire committee, Richard Crawford, the Bike Shop, Leeds and (kneeling) Ian Land a member of the Variety Yorkshire committee.