4th August 2017
Builders Merchants Industry Helps Variety to Improve Young Lives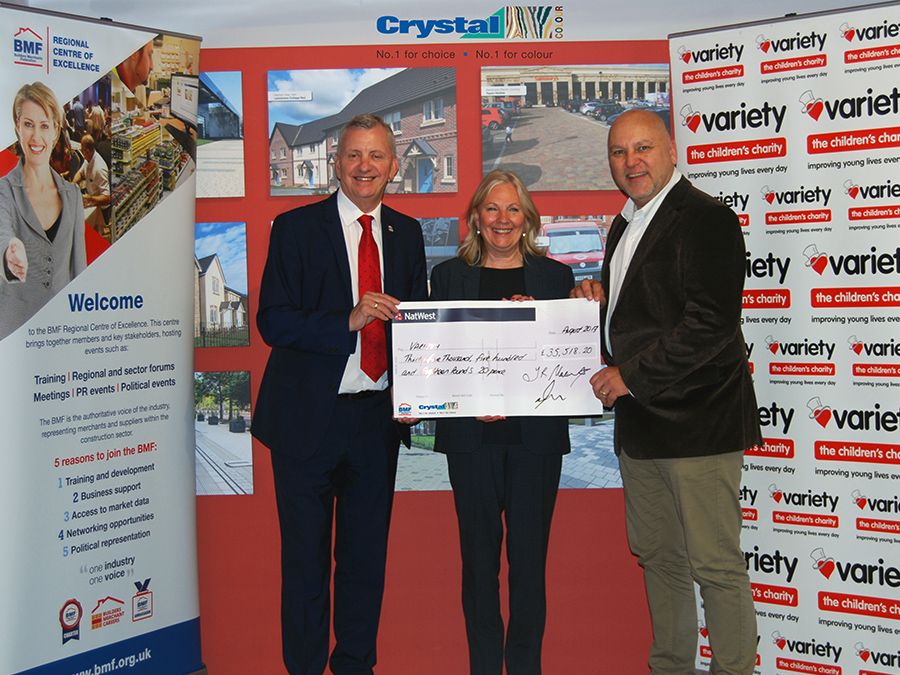 BMF and Crystal Clear Group presented a cheque for £35,518.20 to Colleen Ettridge, Head of Fundraising at Variety, the Children's Charity.
Presenting the cheque was John Newcomb, Chief Executive Officer of the BMF and Martin Randall, Chairman of the Crystal Clear Group.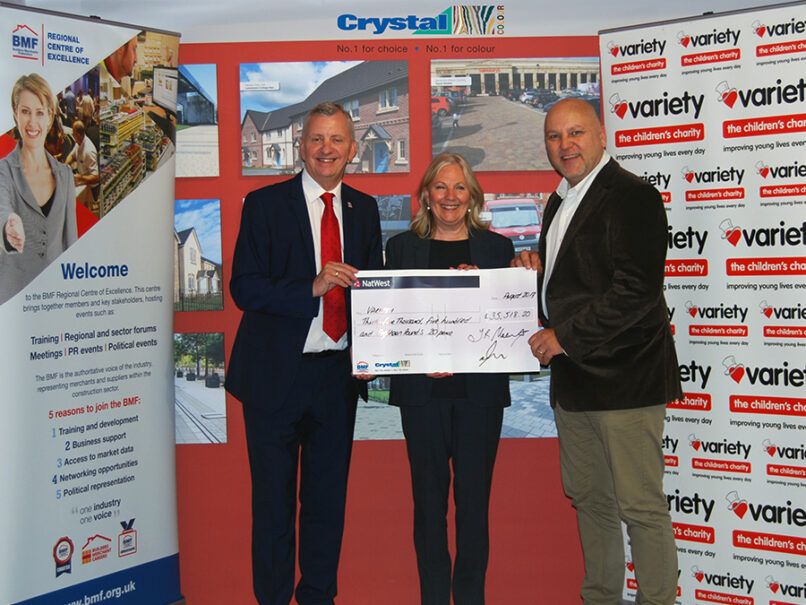 A spectacular array of prizes including a Fiat Abarth 595 Tourismo car, auctioned at the BMF (Builders Merchants Federation) Gala Dinner held in Budapest, helped to raise more than £62k for charity. The funds raised from the auction have been shared between Variety, the Children's Charity and Teenage Cancer Trust, the BMF's charity of the year.
The Fiat Abarth car donated by Crystal Clear Group; sponsor of the BMF Gala Dinner held in Budapest, was auctioned live by the man of many voices Jon Culshaw; a long time supporter of Variety.
John Newcomb, CEO at BMF commented:
"We hoped to raise an exceptional sum for two very deserving charities and I am unbelievably proud of the industry for achieving even more than we ever imagined. I'm told that this is the highest sum our industry has raised for charity in a single night and I would like to thank everyone who contributed. I must also thank Martin Randall and the Crystal Clear Group whose donation of a limited edition car caught everyone's imagination and made such a significant contribution to the evening's overall fundraising."
Martin Randall, Crystal Clear Group Chairman and Variety patron said:
"I can only echo John's appreciation of our colleagues in the industry. Their amazing generosity has raised a huge amount of money and these valuable funds will help both charities continue to make a difference to the lives of the people they support."
In addition to the funds raised through the auction a further £8,235 was donated to Variety in the form of pledges made by the generous BMF members attending the Gala Dinner.
Nick Shattock, Variety's Chief Barker commented:
"We are extremely grateful to the BMF and to Crystal Clear Group for their support. The tremendous generosity of your members will enable Variety to improve a number of young lives. For the children and families that we help and support there are often a list of difficulties; from mobility limitations, speech, sight and hearing impairment, learning, sensory and behavioural problems. The equipment that we provide includes Sunshine Coaches, powered wheelchairs, specialist and sensory equipment and can make a big difference to their everyday lives; helping them to experience and enjoy a rewarding childhood".