22nd May 2014
Britain's Biggest Pub Tour Takes Off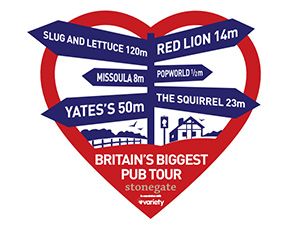 Every journey starts with one step and on Sunday 18th May, Stonegate Pub Company launched Britain's Biggest Pub Tour (BBPT). It commenced at Yates's in Hastings with a family fun day before giving the 'pledge passport' a warm send off to start its journey that will span hundreds of miles.
Soap stars, Pirates, Disney characters as well as a Variety Sunshine Coach were amongst the large crowd waving the passport off from Yates's Hastings for the first leg that will take in the towns along the south coast including Brighton, Hove, Portsmouth, Bournemouth and Southampton. Other events planned include a boat party at the Ferry Boat Inn, Hayling Island.
'Britain's Biggest Pub Tour' runs between 18th May and 26th September 2014 and aims to raise £100k. Armed with a giant 'Pledge Passport' the teams from each one of the 621 pubs will pass the passport from one pub to another using quirky and ingenious transportation methods. From roller-skating to barrel rolling to helicopter riding, the challenge is on to complete the tour in just 131 days, finishing with a party like no other, at Slug and Lettuce at Tower Bridge, London.
"This will be our biggest charity fundraising initiative to date and we are looking forward to raising thousands of pounds to make the lives of many families and their children that little bit easier. We also hope that our 12,000 strong team of fundraisers and our fantastic customers have a great time along the way!" said Toby Smith, Chief Executive, Stonegate Pub Company.
As part of the fundraising 50p from the sale of special Charity tipples, Sweet Summer Pimm's or a pint of specially brewed real ale, The Crawler (Golden Blonde ale 4.1 ABV) will be donated to Variety.
The passport will spend the next four months on tour around the country culminating with a spectacular party at Slug and Lettuce, Tower Bridge on Friday 26 September.