21st July 2014
Britain's Biggest Pub Tour Reaches Cramlington, Tynemouth And Gosforth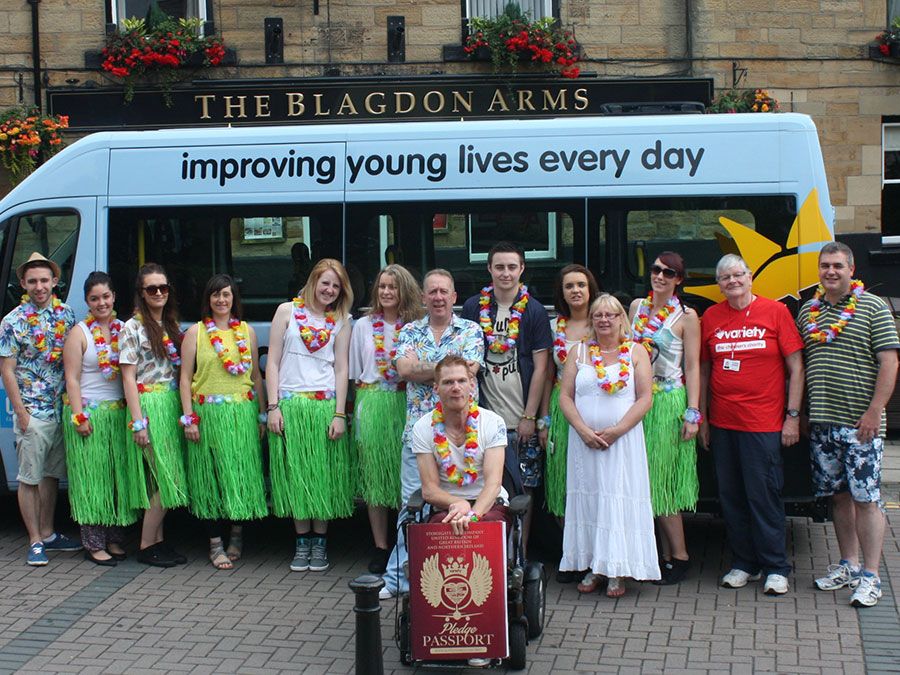 Paralympian and Gold medalist Stephen Miller supported Britain's Biggest Pub Tour (BBPT) as it reached Cramlington.
BBPT set off from the Blagdon Arms in Cramlington at 11am on Sunday, 20th July in aid of Variety.
Stephen is one of the UK's most decorated athletes and is a three-time gold medalist. Cramlington, is his home town, and was proud to be there on the day to lend his support.
Stonegate smashed it's fundraising target of £100,000 within just 6 weeks of the 19 week pub tour putting it on track to be the biggest ever single fund-raising event in aid of Variety.
First stop for the BBPT Passport was the Blagdon Arms, Village Square, Cramlington. During the day, the pub hosted a range of fundraising activities to raise money for Variety. These included an all-day beach themed family fun day, pie eating competition and two of the bar staff had their legs waxed for the charity.
The staff dressed up for a beach party ready to transport the passport by a flatbed truck along the coast road at 11am towards the Salutation, Front Street in Tynemouth. The truck stopped at the famous Tynemouth Priory and Castle where staff from the Salutation received the passport.
Stephen Miller said:
"It is a great honour to give my support to Britain's Biggest Pub Tour and Variety, the Children's Charity. I look forward to seeing everyone at the Blagdon Arms where the charity fundraising will be taking place on Sunday morning."
The passport will continue its tour around the country culminating with a spectacular party at Slug and Lettuce, Tower Bridge on Friday 26 September.
To pre-order the official Stonegate Pub Company charity single by Jo Birchall please visit:
https://itunes.apple.com/us/album/all-about-love-single/id887455726?ls=1