22nd July 2014
Britain's Biggest Pub Tour Passport Reaches Glasgow Ahead Of The Commonwealth Games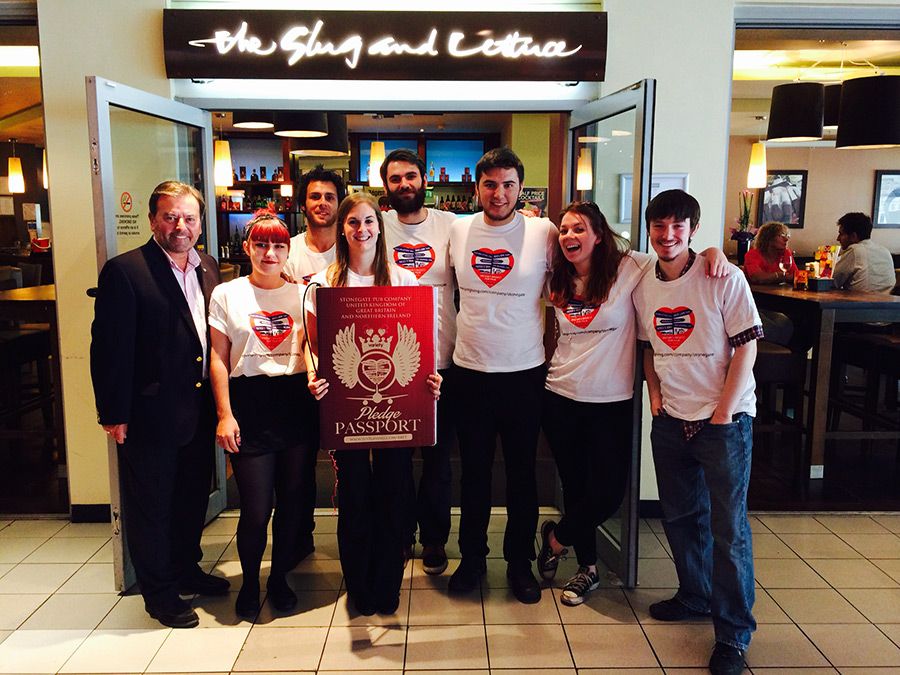 After visiting 284 of the 620 Stonegate pubs, the BBPT passport landed in Scotland on Sunday 13th July and was warmly greeted by Variety Scotland.
After making its way from the South Side of the city via The James Tassie Zombie express subway, it landed at Home in the heart of the Merchant City where the staff all dressed up as Noah and his animals and paraded round to a party at The Ark.
Staff from Ark, dressed up in 80's gear and danced their way round town (Fame style) to Moussula.
Not to be out done, the girls at Moussula flash danced their way across the road to The Merchant where the passport was met by Mr Blobby, a bike riding panda and a giant baby!
This procession then made its way through town, stopping en route for a picture with Clyde the Glasgow Commonwealth Games mascot in Central Station.
Waiting to greet Mr Blobby and friends at the Living Room were the ever popular Mickey and Minnie; windows were opened at offices and staff filled up the collection boxes in return for pictures.
The passport was handed to the staff at Yates where Batman and Superman kept The Joker in check and ensured all were safe in Sauchiehall Street!
Finally, the Passport was handed over to the staff of The Hall who are cycling 35 miles to Bathgate.
Variety Scotland waved off the passport with a massive thank you to all Stonegate Staff and Customers in Scotland for their fantastic support and enthusiasm throughout the whole tour.
Passport transported by skateboard from The Chanter to the Slug and Lettuce, Edinburgh. Staff pictured with Variety Scotland Committee Member Alan Fraser.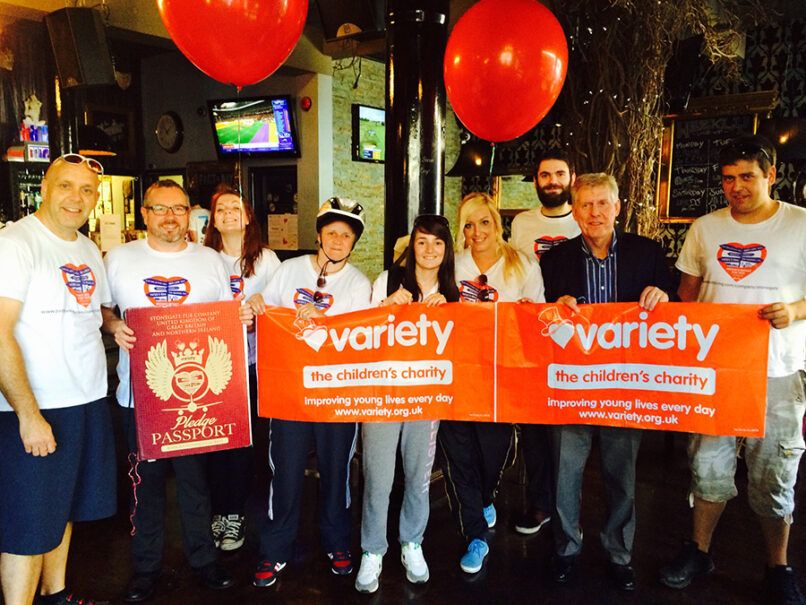 Passport arrived by bicycle from The Exchequer in Kircaldy for handover to The Chanter in Edinburgh. Staff pictured with Scottish Vice Chairman, Tom Porteous.
Staff at Living Room in George Street celebrated with a cool glass of Pimm' at charity o'clock with the passport and gold hearts.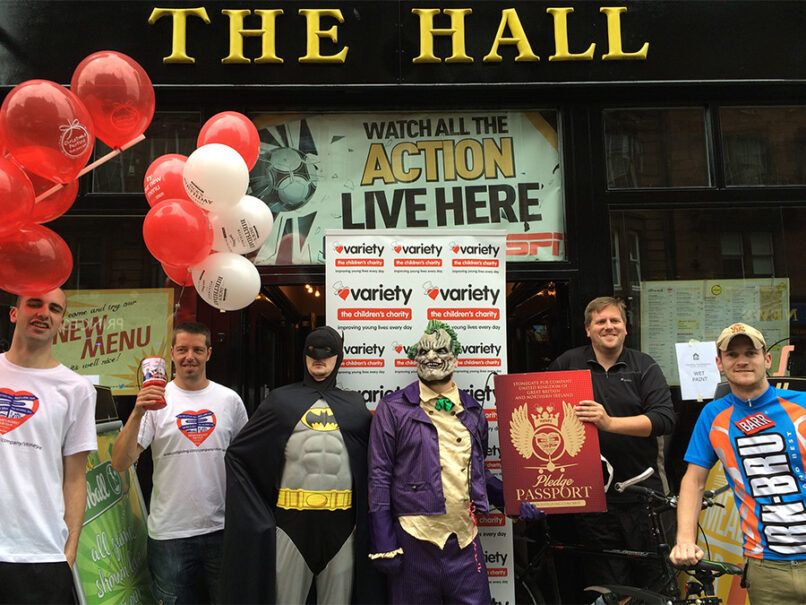 The Passport was handed over to the staff of The Hall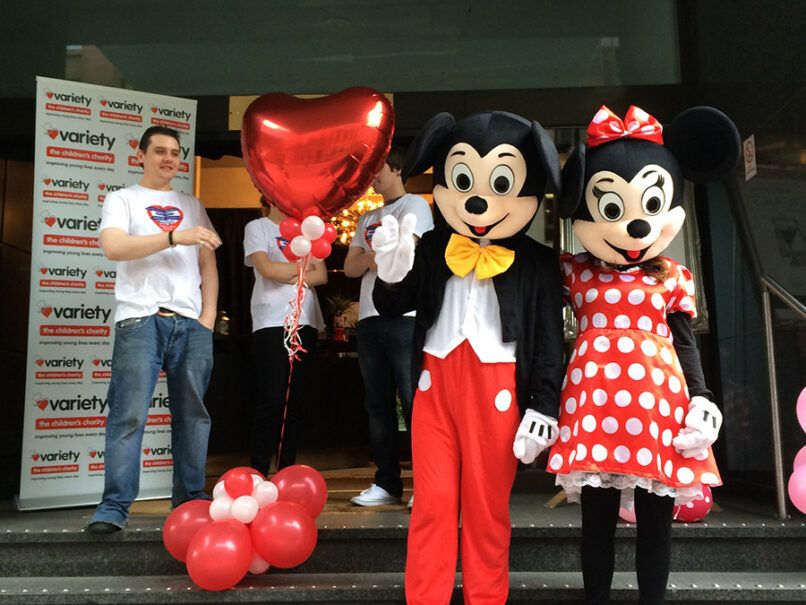 The ever popular Mickey and Minnie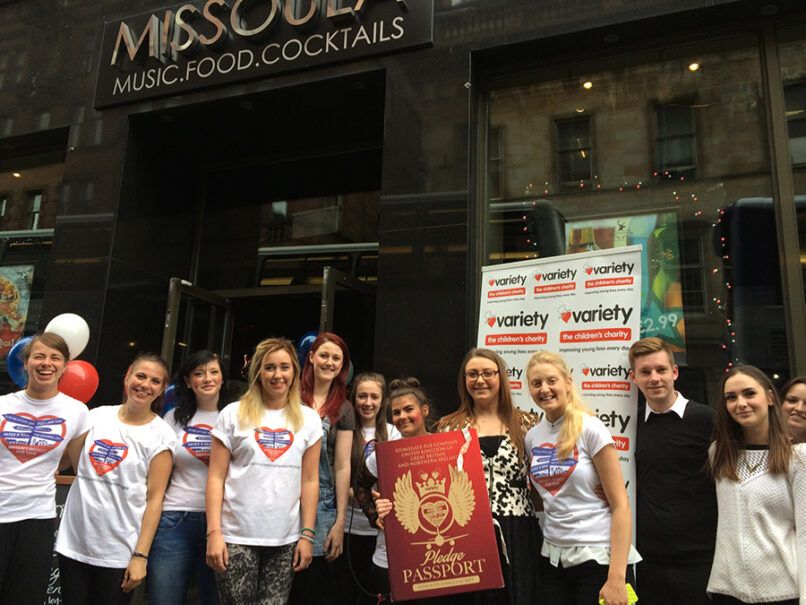 The Passport at Moussula