24th January 2013
Bournemouth Pavilion's Sleeping Beauty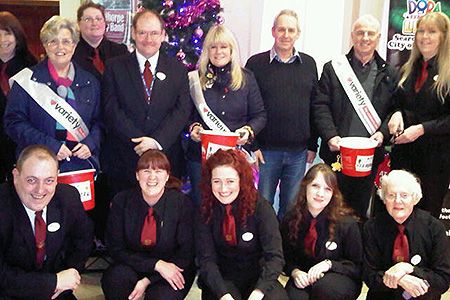 Children love Pantomime and this year Bournemouth Pavilion's Sleeping Beauty thrilled children of all ages. Each Year volunteers from Variety,the Children's Charity give their valuable time to attend each performance to collect much needed funds towards a brand new Sunshine coach, which this year will be provided for Victoria Education Centre in Bournemouth.
Paul Griffiths, Pavilion General Manager and front of house staff support this worthy cause by working alongside Variety Committee members to fill their buckets!
Frances Cornelius, Wessex Variety Chairwoman said:
"We really could not achieve this each year without such tremendous support and hard work, a huge big thank you goes to Martin Dodd of UK Productions, Chris Jarvis, Sue Pollard and the dancers from the show, Freya, Sam, Taylor, Rachelle, Dom & Jamie! All of who were out in the foyer after every 43 performances helping us to collect money, also big thanks to Variety Committee members Judy and Bob Hiscoke".
Because of the amazing generosity of the general public, £7,162 was raised for this wonderful cause.