7th October 2015
Bingo Clubs Call Out a Very High Number!!!
On Friday 2nd October, Bingo Clubs all over the UK were united as one, when cheques to the total value of £250,000 were presented to Variety representatives following an incredible fundraising efforts.
Representing 98% of all retail bingo clubs, The Bingo Association has been raising funds for charity partner Variety, the Children's Charity, throughout the last month. Bingo clubs across the country have been taking part in a range of fundraising activities including football tournaments, Sunshine Day parties, cake sales, special £1 games and prize draws as well as a nation-wide charity fundraiser event in September.
Photo: Miles Baron CEO – The Bingo Association with Robert Halfon MP and Brian Robertson, Chief Operating Officer of Variety, the Children's Charity.
The Bingo Association is partnering Variety, the Children's Charity, with the aim of raising £500,000 over two years. The relationship couldn't have got off to a better start when over 90 MPS from all political parties joined with Club Managers and Variety volunteers and staff, to celebrate the success of over 300 clubs in raising vitally needed funds.
Variety will soon be using this income to fund appeals in all our regions to reflect the sterling efforts of the clubs and their generous customers. Watch this space!
Variety can't thank The Bingo Association and all the Operators, Clubs, Staff and Customers enough for their wonderful support. Below is a selection of the presentations which took place all over the UK.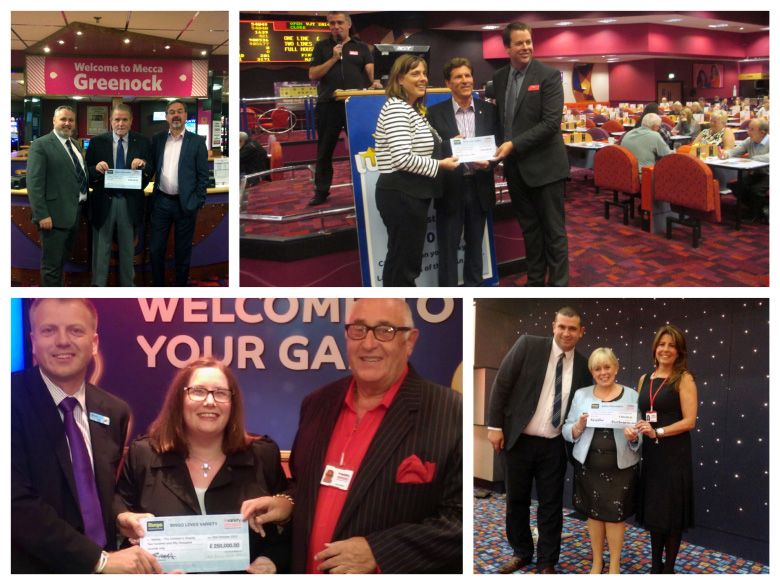 Photo:
Top left: James Watson of Mecca Greenock with Andrew Horne, Variety volunteer and Ronnie Cowan MP.
Top right: Tom Phillips, Chairman, Midlands Region accepting the cheque from Jess Phillips MP and Mark from Mecca Acocks Green.
Bottom left: Ronnie Hall, Gala South Shields Club Manager with Emma Lewell-Buck MP and Ray Crawford, Variety volunteer.
Bottom right: Michael Walker, Manager Gala Bingo Wallsend with Mary Glindon MP presenting the cheque to Deborah Topping, Variety volunteer.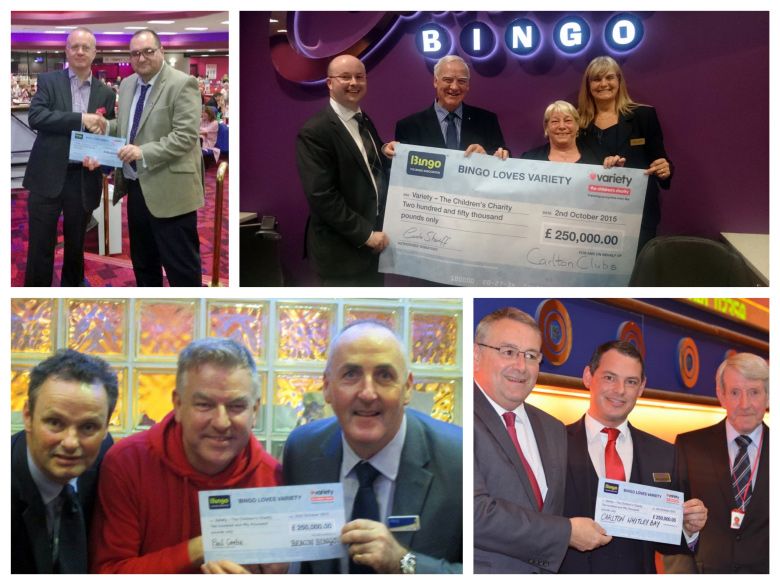 Photo:
Top Left: Charlie Diakou, Vice Chairman – Variety Merseyside Committee receives the cheque from Club Manager Steve at Mecca Bingo Knotty Ash Liverpool.
Top right: Carlton Bingo in Partick, Glasgow. Helping with the presentation were Sandra White, Member of the Scottish Parliament for Glasgow Kelvin and Patrick Grady Member of Parliament for Glasgow North with Carole Sherrif, Manager of the Club.
Bottom Left: Peter Aldous, MP witgh Peter Rosenvinge, Head of Fundraising with the Manager of Beacon Bingo, Lowestoft.
Bottom Right: Alan Campbell MP, Michael Garthwaite – Manager of Carlton Bingo, Whitley Bay, Tyne and Wear with Variety volunteer, Michael Reynolds