15th May 2019
Beaucroft Foundation School gets a new Coach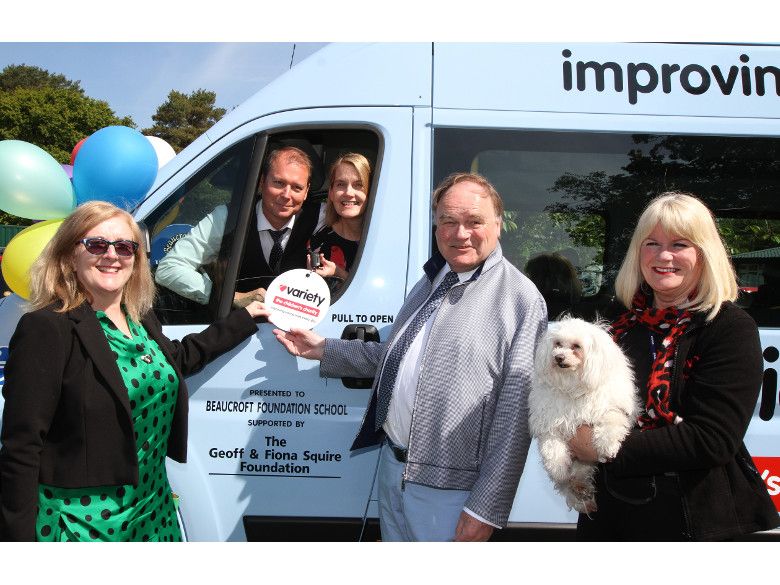 With the generous support of the Geoff and Fiona Squire Foundation, Variety, the Children's Charity has supplied one of its iconic Sunshine Coaches to Beaucroft Foundation School in Wimborne.
The Variety Sunshine Coach was delivered to Beaucroft Foundation School on Wednesday, 15 May. It will be used to enable travel to exciting educational visits and outdoor sporting activities, for pupils unable to travel by public transport. Beaucroft is a Foundation Special School that caters for 165 children and young people between the ages of four and nineteen who are experiencing learning difficulties, including complex needs, and those with an Autistic Spectrum Disorder and Downs Syndrome.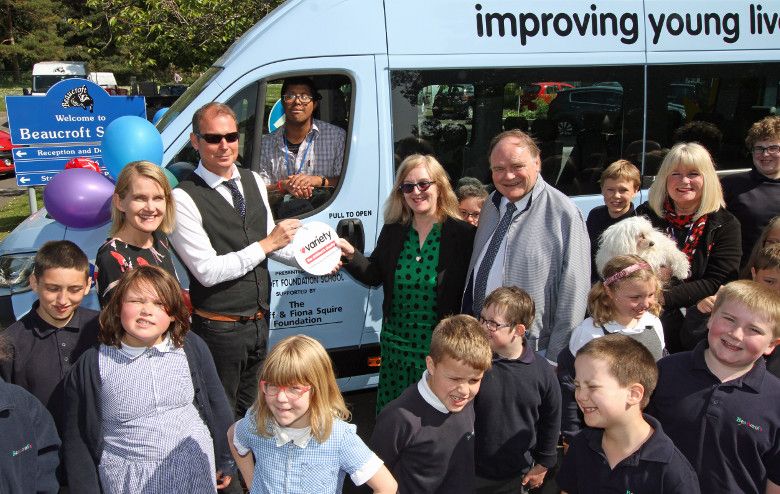 Beaucroft Foundation School co-heads Joe Barnett and Diane Makariou, standing left, are presented with the keys to the coach by Geoff and Fiona Squire from the Squire Foundation with Frances Cornlius, chair of Variety Wessex, with lily the dog and pupils from the school
The new specially adapted Sunshine Coach will replace their 13-year-old minibus that has become excessively unreliable and too expensive to maintain.
Variety's Sunshine Coaches have helped improve the lives of thousands of disabled or disadvantaged children across the UK. The coaches enable schools to take children on education and recreational days out allowing children to explore places they would otherwise never have visited. Earlier this month, Variety donated their 5,600th Sunshine Coach in the UK.
Variety is celebrating its 70th anniversary as a UK charity this year. In this time, it has helped to improve the lives of almost 1 million disabled and disadvantaged children and their families.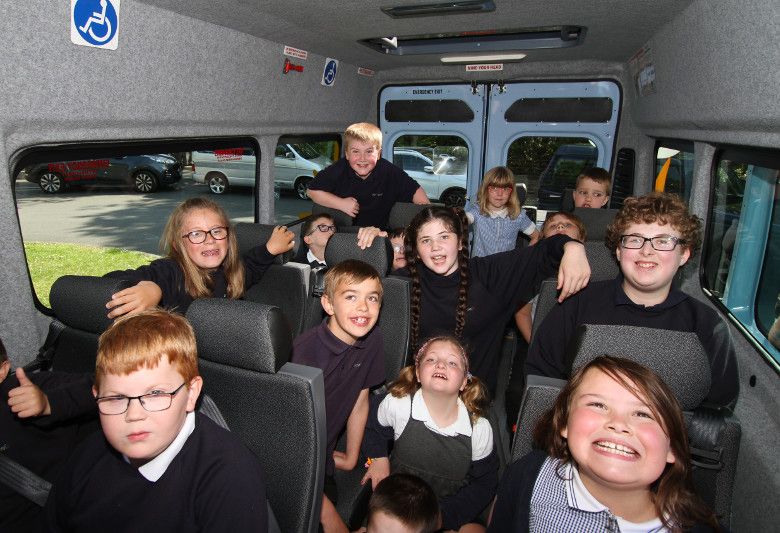 Excited children couldn't wait to explore the inside of the minibus
Dave King, Head of Programmes, Variety, said: "We are delighted that the pupils of Beaucroft Foundation School have received their new Sunshine Coach, and would like to thank the Geoff and Fiona Squire Foundation for their huge generosity. These coaches enable children and young people to get the most out of school life by accessing learning and recreational facilities outside of the school environment."
Diane Makariou Co Headteacher, Beaucroft Foundation School, said: "We are very grateful to the Geoff and Fiona Squire Foundation for their generous donation, and to The Louis Ross Foundation, The John Thornton Young Achiever's Foundation and Friends of Beaucroft who helped us raise our contribution towards the Sunshine Coach."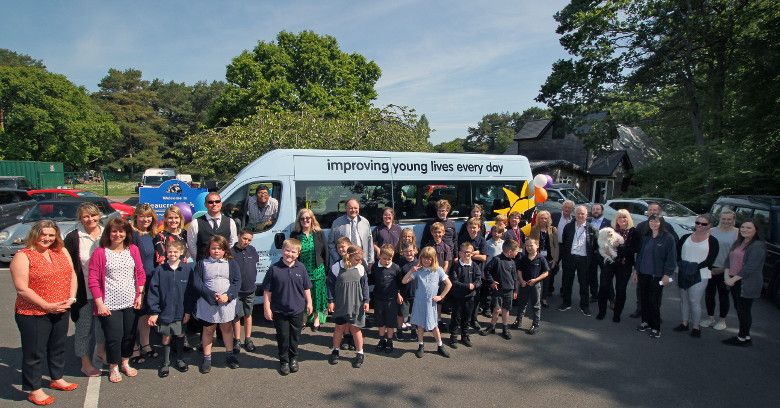 Everyone was thrilled with the new Sunshine Coach. Here are Beaucroft staff and pupils, fundraisers, sponsors and supporters
Fiona Squire, the Geoff and Fiona Squire Foundation, said: "The Geoff & Fiona Squire Foundation is proud to support a new Variety Sunshine Coach which was presented to Beaucroft School on Wednesday 15th May 2019. Beaucroft caters for children and young people who are experiencing learning difficulties. It is a special place, where children feel valued and staff ensure that learning needs are focused on practical, community-based learning, creating a friendly, caring environment where children positively thrive. The new Variety Sunshine Coach will provide opportunities for the children to widen their horizons beyond the school gates and take part in field outings that are educational, sporting, or just simply fun."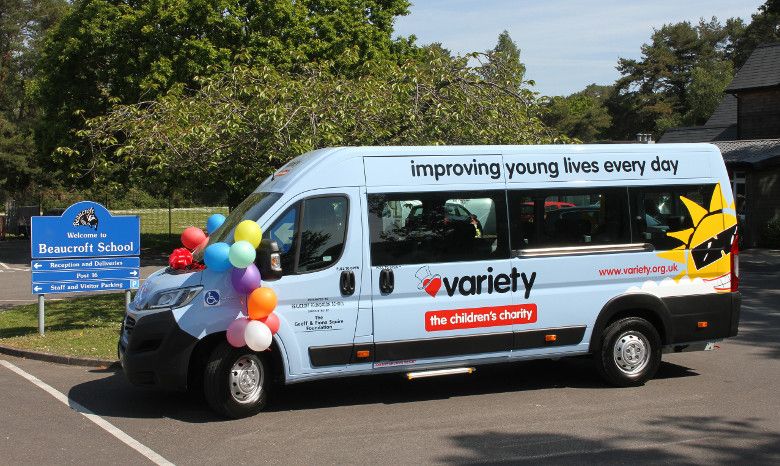 The new minibus in the school grounds