24th July 2012
Barbara Windsor Does A Right Royal Knees Up At Hickstead For Variety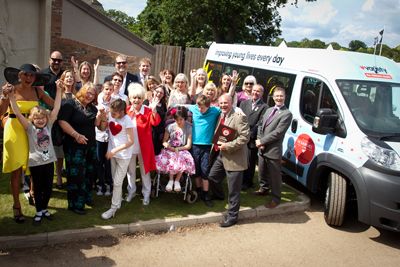 It was a pleasure to be invited to the Longines Royal International Horse Show at Hickstead again this year to raise funds for disabled or disadvantaged children and young people across the UK.
On the Saturday, our Ambassador, Barbara Windsor MBE, was our guest and judged the wonderful Ladies' Day outfits, as well as presenting a brand new Variety Sunshine Coach.
Ladies' Day also provided an opportunity for Barbara to hand over the keys to a brand new Variety Sunshine Coach thanks to our long-term corporate supporter, H. Samuel, to Hindleap Warren, a local outdoor education centre.H Samuel raises funds for our work through collectibles and special gifts in their Christmas Catalogue, as well as through the sale of Gold Hearts in store. H Samuel has funded youth clubs, wheelchairs and specialist equipment for children and young people all over the UK.
Barbara had very kindly offered to sponsor a seat on the coach when she was officially made a Variety Ambassador in April.
Barbara said:
"I am so excited to have been chosen to represent Variety, the Children's Charity, in judging the Best Dressed Lady award at Hickstead this year. It's my first time at Hickstead and it's lovely – you are seeing Britain at its best here."
Keith Andrews, Variety's Chief Barker, said:
"We are always looking for different ways to raise money for the children and young people we support, and this is a perfect example of fundraising that also provides a memorable experience for some of those children whom have been invited to attend."
Thank you to everyone who supported the wonderful afternoon!