20th April 2015
Aspire Inspires!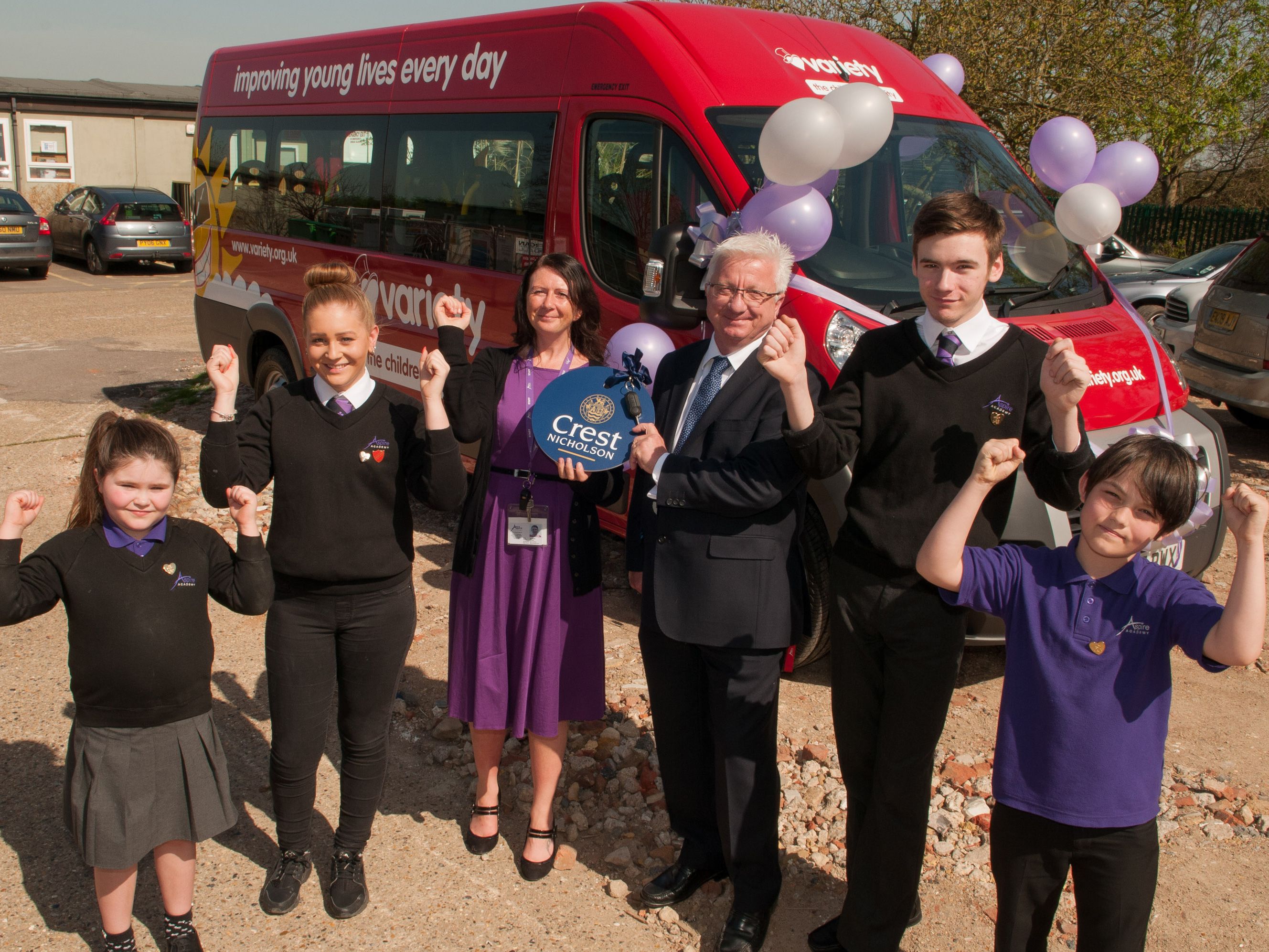 Teachers and pupils at Harlow Aspire Academy were all smiles after long term Variety supporter, house builder Crest Nicholson Eastern presented a brand new Variety Sunshine Coach.
Photo: Head Boy and Girl from the Academy's primary and secondary streams with Principal Deb Garfield OBE and Peter Diffley, MD of Crest Nicholson Eastern.
The 14 seater coach will benefit the pupils of the Alternative Provision School for children and young people aged 4-16 who haven't succeeded in mainstream education for a variety of reasons and have a wide range of needs including social, emotional or behavioural difficulties.
Until now, the school had been reliant upon local community and public transport to ferry pupils around since the Academy opened in September. The new coach will be used five days a week to take students to various educational, cultural and sporting events, community projects and therapeutic sessions.
Crest Nicholson has been supporting Variety since 2005 and has raised more than £650,000, providing Sunshine Coaches and other specialist equipment to schools and children across the country. The coach for Aspire is the sixteenth vehicle which it has funded.
Variety's Head of Corporate Fundraising, Mike Haszko and Sunshine Coaches Committee Member, Julie Banes, also attended the presentation.
Photo: Peter Diffley, presents the keys of the coach to Debbie Garfield
Crest Nicholson Managing Director, Peter Diffley said:
"Crest Nicholson is proud and delighted to be donating this new Variety Sunshine Coach to the Aspire Academy. We know from experience what a huge impact these coaches have on the lives of the children and young people at the schools who need them and this morning it has been incredible to see the fundraising work of our staff, suppliers, contractors and stakeholders across the business paying off in such a wonderful way."
Academy Principal Deb Garfield responded:
"Thank you for helping us to realise our dream of having our own coach. We are always telling our pupils how special and valued they are, and to finally be driving them around in a brand new coach is a huge boost their self-esteem and confidence. Thanks to this donation we are already re-writing our curriculum to feed in more opportunities for our pupils to experience the wider world and raise their aspirations for their own futures. This is something we couldn't do before."
Head Girl Alyshia said:
"On behalf of the pupils of Aspire Academy, thank you to Crest Nicholson and Variety, the Children's Charity, for helping us to realise our dream of having our own coach. It will allow us to explore our town, our county and our countryside even further and experience more of life, so we can see the many options that are open to us outside of our school."
Head Boy Kai added:
"We will be able to go to Forest Schools where they enjoy nurture and education at the same time, but in the wild outdoor wilderness of Essex!

"The only downside of all of this is that Ms Garfield is also intending to use it to hurry out of bed the usual latecomers in order to support them in getting into school on time in the mornings. Luckily, this won't affect me as I'm always on time!"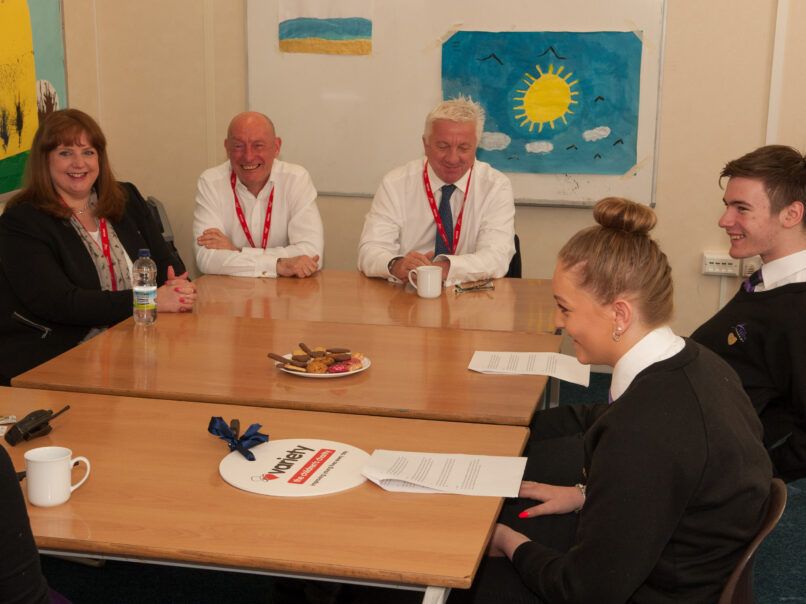 Photo: Academy pupils Alyshia Gould and Kai Challis-Tarling – both Year 11 pupils – gave a 'thank you' presentation to Crest Nicholson and Variety before the handover.