26th April 2013
Annual Easter Bonnet Competition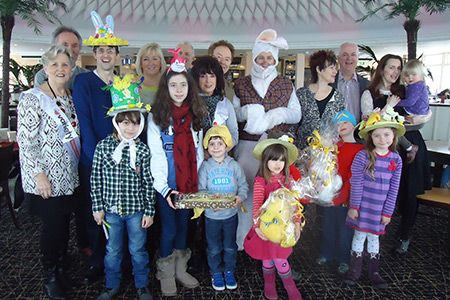 Variety, the Children's Charity, Wessex Region, held their Annual Easter Bonnet Competition in the Key West Restaurant on Bournemouth Pier on Easter Monday. Thanks to Ian Goode and Openwide Entertainments for donating use of the restaurant.
Competitors paraded their beautiful homemade hats in front of the judges, actress and impressionist, Debra Stephenson and Interior Designer, Celia Bygraves. The audience was entertained by Anthony Bygraves and Barry Bunny whilst the judges decided on the winners.
First prize was won by Lucy Clarke of St Mark's School in Talbot Village. She wins complimentary use of the Bournemouth Pier Theatre for a school show. James Hiscoke won the second prize of ten tickets for summer shows in the Pier Theatre, and the third prize, of a fluffy duck, went jointly to Iris and Phoebe Thurgur.