27th October 2015
An Express Sunshine Coach for Grangewood School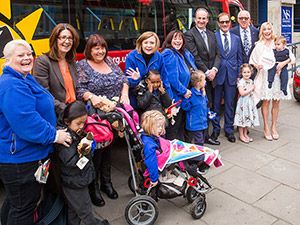 The Northern and Shell Building, home of Express Newspapers, provided the splendid backdrop to the wonderful donation of a Sunshine Coach by media tycoon Richard Desmond and his family, to Grangewood School. The Richard Desmond Charitable Trust has given out more than £20million to good causes in the past decade.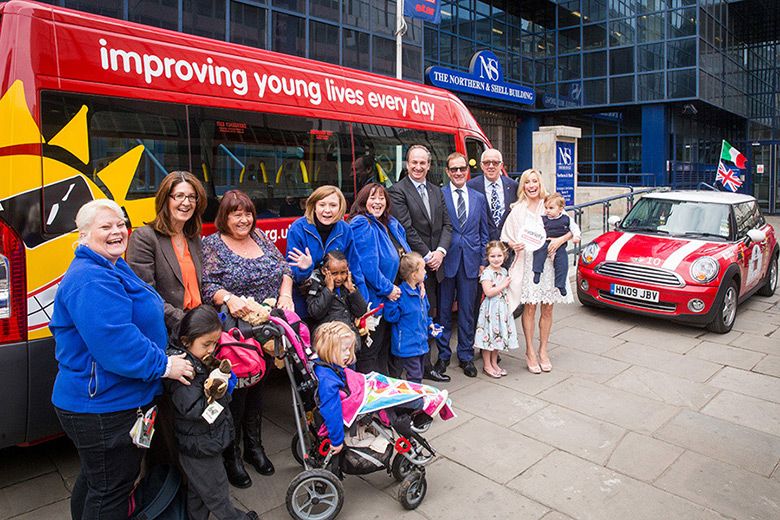 Photo: Teachers and pupils from Grangewood School with The Desmond Family are joined by Jan Marlow and Amy Kenny, Teaching Assistants with some of the pupils alongside Chief Barker, Jason Lewis and Variety Trustee Malcolm Brenner, flanked by a Mini from The Italian Job, an event raising money for Variety.
Grangewood School is a primary school, based in Eastcote, Middlesex, for children with severe learning difficulties and physical and complex needs, including Autistic Spectrum Disorder. The school caters for 103 children and 20 children are wheelchair users. The new Variety Sunshine Coach will give the children the opportunity to experience the outside world in a safe and secure way through a number of trips and activities. The coach will be used every school day and during afterschool and holiday clubs.
The coach was presented in the name of Richard Desmond's children, daughter Angel Millie aged 4 and son Valentine, who is 9 months old, seen here next to the new coach.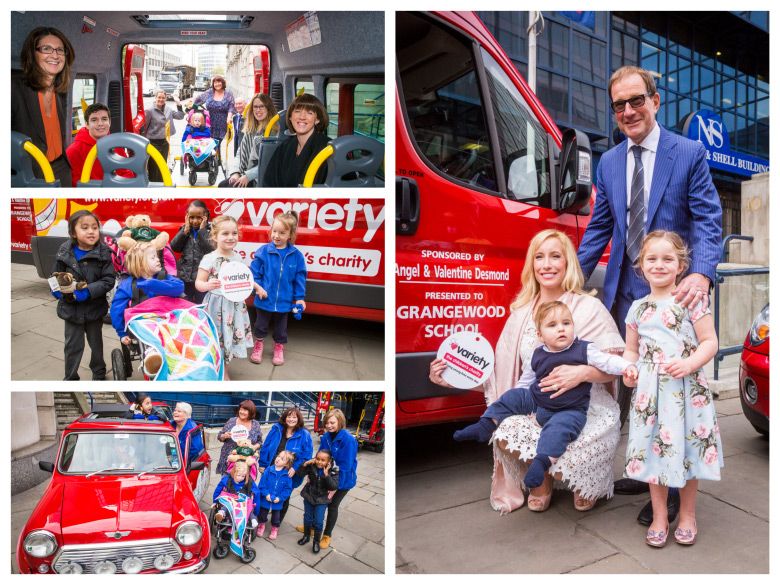 The businessman and philanthropist is Chairman of Northern & Shell and owner of Express Newspapers said:
"It's nearly 40 years since I began supporting Variety, and I am very happy and proud to make this presentation to Grangewood School. We always used to talk of these coaches representing a million miles of happiness and if I'm adding a few more miles today it's a privilege to do so."
Mr Desmond added:
"Every year we try to sponsor one for my kids. It teaches them about giving and it's a very lovely thing to do. It makes a difference. I have always been been heavily involved in Variety. My father Cyril actually helped set up the charity"
Karen Clark, head of the school said:
"This bus will take them out into the local community and further afield to enable them to access life skills and various things their parents may struggle with. It's much more comfortable than the last one we had, which was very old. This enables us to take them out in wheelchairs much easier. I was aware of Mr Desmond's work with charities. We were absolutely, overwhelmed and so delighted. There's been a buzz of excitement around the school ever since we heard a few weeks ago."
Also at the presentation were minis taking part in the Italian Job Run later this month. The cars will head from the UK to Italy, raising money for children's charities, including Variety, along the way.