7th June 2012
Accessible Retail Present 50th Variety Sunshine Coach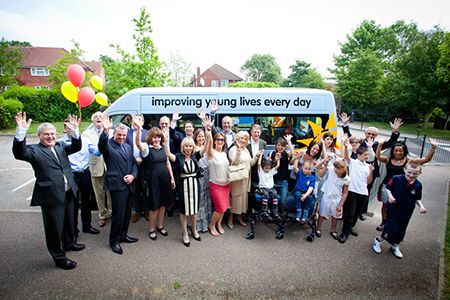 This wonderful milestone has been achieved by very few supporters of Variety, the Children's Charity, since the coaches were first seen on to the roads of Britain in 1962. The coach was funded from proceeds from the Accessible Retail annual Christmas Lunch and from a further generous donation by them. The coach presentation was made even more special as it was donated in memory of Harvey Spack, a pioneer of the retail property industry and hugely respected figure in the sector.
Head teacher Dianne Ryan, said:
"I can't emphasise enough the difference the coach will make to the lives our students. We really can't thank Accessible Retail, Mrs Spack and Variety for their support. The smiles on the faces of the children says it all."
Oak View School is a community special school for 75 pupils and students with severe and complex needs. The Sunshine Coach will be used daily to enhance the pupils' curriculum, to take pupils to swimming lessons, sports events, pony riding and special needs playgrounds.
Brad Critcher, Chairman of Accessible Retail, said:
"Accessible Retails is immensely proud to be involved with the work of Variety. Coach presentations are always special events for us and I hope the children will derive enormous benefit from their new coach which is I think is a fitting tribute to Harvey."