1st November 2012
A Trike for Reece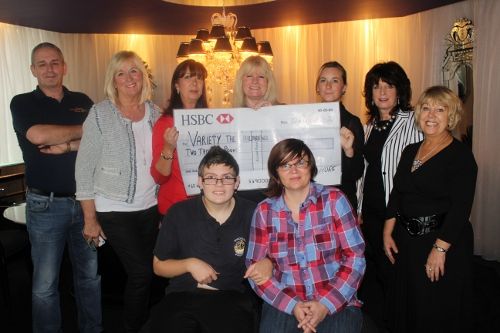 Variety, the Children's Charity, held a presentation at Cafe Shore, Poole, to thank the Management and Staff for their ongoing support.
During the past year, Cafe Shore has raised around £2,000 for the charity enabling them to purchase life changing special equipment for youngsters such as Reece Philips who applied for a tricycle.
15 year old Reece and his Mum, Jo were invited to join Variety committee members to the special presentation tea at Cafe Shore where a cheque for £2,000 was presented by Emily, Café Shore's manager, to the charity's chair Frances Cornelius.
Reece's disorder affects his ability to be independent in walking, washing, dressing, he has poor muscle control and abnormal muscle tone which affects his balance, co-ordination, stamina and muscle strength, His Physiotherapist says that they are working in therapy to improve Reece's gait pattern, stamina and muscle strength but a tricycle is thought to compliment these activities significantly, including improving the strength of Reece's lower limbs and improving his trunk control and his general level of fitness.
Reece is unable to use a standard bicycle, as he does not have adequate balance and strength to do so. A tricycle would ensure that Reece has the stability and security he requires to be able to pedal and will therefore allow him some independence to take part in family and peer activities and improve his stamina.