17th April 2012
A Ray of Sunshine Is Donated To A Basingstoke School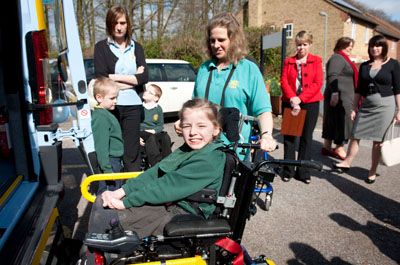 Variety, the Children's Charity, recently donated a Variety Sunshine Coach to the children of Saxon Wood School, Basingstoke, thanks to the support of De Vere Venues.
Saxon Wood School is a special school for children with physical disabilities and complex medical needs. Their brand new 17 seated coach has a tail-lift will enable the children of Saxon Wood School to embark upon a number of educational and recreational pursuits which will expand their learning experience and enable them to interact with the wider community.
This Variety Sunshine Coach has been generously funded by De Vere Venues and is the 11th Variety Sunshine Coach to be funded by De Vere Venues in the past three years. Julie Ashford, PA to the
Chief Executive Officer for De Vere Venues, commented:
"We are extremely pleased and proud to be presenting this Variety Sunshine Coach to Saxon Wood School and know it will provide many years of enjoyment for the pupils and wider school community."
"De Vere Venues staff, suppliers and customers have been fundraising for Variety, the Children's Charity, for the past three years and it is very rewarding to see first hand the impact that our fundraising efforts have on the children who benefit from Variety's support".
Sarah Denton of Saxon Wood School, said:
"We are truly thankful for the donation of the Variety Sunshine Coach from De Vere Venues. Having this coach to take our children on trips and outings will open up a new avenue of experiences for our pupils with the opportunity to access activities which were previously inaccessible."
Following the presentation, we were very pleased to receive a wonderful thank you from the pupils and staff. The letter shows how some of the children at the school communicate using the Picture Exchange Communication System (PECS).