20th September 2018
A 'Novel' fundraiser for Variety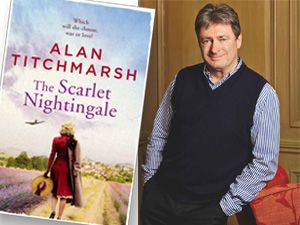 Television presenter, and one of the UK's most prolific authors Alan Titchmarsh, will be appearing at a special 'meet the author' dinner on 4th October 2018 at the Mercure Southampton Centre Dolphin Hotel in Southampton.
Alan's latest novel 'The Scarlett Nightingale' is set in wartime London and occupied France, and is a thrilling story of love, danger and sacrifice.
At the 'Evening with Alan Titchmarsh', the author will be carrying out a personal appearance and book signing session as part of an event celebrating the launch of his new novel. The evening offers his fans the opportunity to meet him in person, receive a copy of his book, enjoy a two-course dinner and hear Alan share anecdotes and stories of his career.
The night begins at 6.30pm with arrival drinks and dinner, after which Alan will discuss his book and highlights of a wide-ranging career as a gardener, TV presenter and novelist. Guests can participate in an audience question and answer session, before meeting Alan as he signs their copy of his book.
Tickets for the event must be bought in advance and are £37.00 per person including a hard-back copy of 'The Scarlett Nightingale'. 10% of the proceeds from ticket sales are being donated to Variety, the Children's Charity.
Tickets are available from bookings@dolphin-southampton.com or call 023 8038 6460.
Car parking is available at the Hotel.