10th October 2013
92 Runners Ran In The Heat For Variety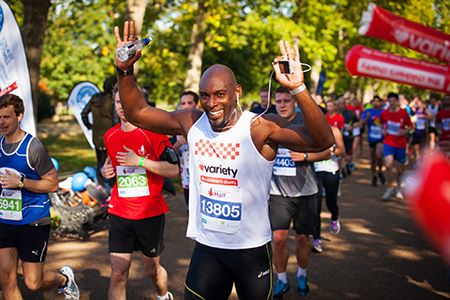 More than 16,000 runners confirmed their space to jog and run through London's glorious parks, including Hyde Park, Kensington Gardens, St. James's Park and Green Park. And, with an impressive amount of runners from Variety, the atmosphere couldn't have been more perfect to motivate our team across the finish line.
Leading the way for Team Variety was Wayne Gordon, aka 'Doom' in the hit TV show "Gladiators", who finished the race in a fantastic 1 hour 50 minutes. Including representatives from companies Killik, Carlson Rezidor and Veolia, ALL RUNNERS managed to finish the course in under 4 ½ hours, with some having never taken part in a race ever before!
Greeting our runners on their last mile of the route was a 30 strong team of Variety volunteers who had turned out to cheer, providing much needed encouragement. Once the Variety runners had crossed the line, they returned to a special marquee located in the "Will to Win" Tennis Centre, and were treated to a sports massage as well as complimentary food and drinks.
Chief Barker, Laurence Davis said:
"I'm so impressed by the dedication of all of our runners who spent weeks in training and raised so much money to help so many deserving children. This was our first involvement in the Royal Parks Foundation's Half Marathon and our thanks go to all involved who helped make the day such an outstanding success."
The total amount is yet to be announced but, with an impressive £55,000 raised so far, we can't wait to find out what this may be and how this money can make a real difference to the many lives of children for whom we work.
CONGRATULATIONS RUNNERS – YOU DID IT!
Liz Dvorkin said :
"What an amazing event I took part in I today. I did not run for your charity, I was running for breast cancer campaign. However, my friend did run for you and whilst I was with her we overheard you check if all your runners were over the finish line. 2 were still on the course. My friend and I were making our way back to the tube and saw your crew, you had found the two runners and we're escorting them home across the finish line. Of all the sights I saw today, this was the most moving example of team work. Such an inspiration! Go Variety!"
If you are interested in taking part in next year's Royal Parks Foundation Half Marathon to raise money for Variety, please contact richa.gautam@variety.org.uk to register your interest.