21st September 2012
A Great Nottingham Thank You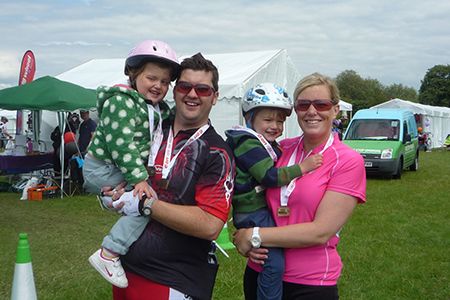 Our daughter Sasha is nearly six years old and has global developmental delays including hypotonia and low muscle tone. This affects her mobility but doesn't stop her trying to keep up with her friends. When her physio showed us a specialist trike that could be made to suit Sasha's needs we were all very excited.
Bespoke equipment like this costs a lot of money and so we applied to a number of charities for some financial support and we were delighted when Variety said that they could help. Sasha really loves her trike and gets lots of compliments when she rides around our village.
We were so grateful to the Variety and decided that we wanted to do something as a family to raise some money for them. We chose the Great Nottinghamshire bike ride (48 miles) as it was local to us, relevant and seemed achievable as a family.
After weeks of training in very rainy conditions, with Sasha and her younger brother Ethan getting fed up, asking 'are we nearly there yet' and 'can we stop now and go to the park please' the big day arrived. With a mixture of excitement and apprehension Family Gapp set off. We had a great time and received lots of compliments along the way for 'doing well' with two children on the back of our bikes.
Sasha and Ethan loved all of the attention and particularly enjoyed stopping for cakes and biscuits provided by Gran and Grandad at the rest stops. They drove the entire route as extra support.
We finished the 48 miles in just under four hours and we're over the moon that we successfully completed our challenge. Added to that is the great feeling of having raised £1,230 for Variety, much more than we had anticipated.