23rd July 2020
Variety names 'Pretty Woman' lead, Aimie Atkinson, a Celebrity Ambassador
Press releases
Showbusiness
Variety is delighted to announce that Aimie Atkinson, best-known for her leading role in 'Pretty Woman: The Musical', a critically-acclaimed London West End show, has today been named a Variety Celebrity Ambassador, in recognition of her support for the charity. She will be officially appointed to the role when the COVID-19 crisis has passed and life returns to normal.
Prior to her 'Pretty Woman' performance, the award-winning stage actress and singer has had leading roles in a number of hit musicals, including 'In the Heights' and 'Six, the Musical'.
Aimie has said that she is pleased and proud to join the incredible array of stars in the entertainment industry who are Variety Celebrity Ambassadors, and will do everything she can to promote the charity, thereby helping the sick, disabled and disadvantaged children that the charity supports.

Chief Barker, Dilly Williamson, together with Celebrity Chair, Malcolm Brenner, and Celebrity Manager, Caroline Monk, are thrilled to welcome Aimie to the Variety family.
Aimie has also agreed to model an 'I Love Variety' face mask, which can be purchased from https://www.masksuk.com/variety-charity-masks/. The masks, which are available for £12.49 (incl. P&P) and come in a range of sizes, will raise funds to help thousands of sick, disabled and disadvantaged children across the UK who are supported by Variety. £5 from the sale of each mask will go towards Variety's work.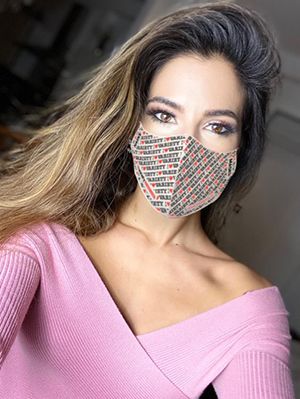 Variety Chief Barker, Dilly Kitchlew-Williamson, said: "Variety has a rich heritage of receiving support from the show business community, and so it is only right that we continue to move forward and work with the stars of today. Over the years, celebrities have dedicated their time to the charity and we know that, with Aimie's support, alongside our other celebrities, we can mobilise even more people around the country to help Variety to improve the lives of children and young people who are less fortunate than others."
The actress and singer joins a long line of illustrious celebrities who have supported Variety since its inception. The charity has its roots in the showbiz industry, and Sir Michael Caine, Dame Barbara Windsor, Sir Cliff Richard, Dame Judi Dench, Dame Joan Collins and Brian May are just some of the many stars who have pledged their backing in previous years, and helped contribute towards Variety's rich entertainment heritage.