4th March 2021
Variety names British boxing icon, Michael Watson, MBE, as a Celebrity Sports Ambassador
Press releases
Showbusiness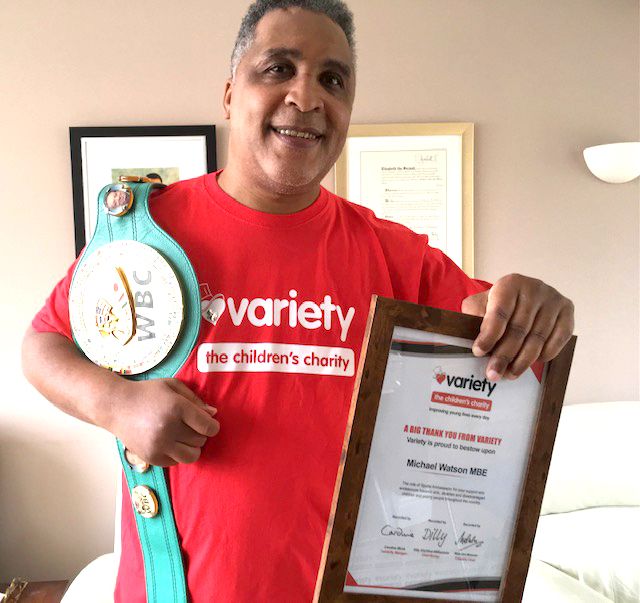 Variety is delighted to announce that Michael Watson, MBE, has been appointed as our newest Celebrity Sports Ambassador. A former British and Commonwealth boxing champion, Michael is one of British boxing's most revered and iconic figures.
Highlights of his professional boxing career in the 80's and early 90's include his victory over Nigel Benn to secure the Commonwealth middleweight title, and his world title clash with Jamaican Mike McCallum, which ended in a close defeat.
Tragically, Michael suffered a devastating, near-fatal brain injury during his 1991 WBO super-middleweight title fight with Chris Eubank, an event that ended his boxing career.
After spending 40 days in a medically-induced coma, Michael defied the odds to make a miraculous comeback. His long road to recovery included numerous brain operations to remove a blood clot, and a year in intensive care and rehabilitation. He spent six more years as a wheelchair user, slowly regaining the ability to walk, speak and write.
Michael has since become a vocal campaigner for disability sport, calling for improved disabled access to gyms and fitness centres, among other campaigns. In 2003, he took on the London Marathon, using a walking stick to complete the 26.2-mile course over six days. The effort earned him a Spirit of London award, while the public support shown to him as he raised money for charity saw him dubbed the 'People's Champion'.
In 2004, Watson was awarded an MBE for his services to disability sport. He was also asked to carry the Paralympic torch as part of 2012 London games – and .
Michael has long been a Variety supporter. Most memorably, he presented a Sunshine Coach in 2014 to the Pedro Youth Club in London together with Jarvis Astair, OBE, a former Variety Chief Barker.
Michael Watson said: "I feel extremely honoured to be a Sports Ambassador for Variety, the Children's Charity and I'm looking forward to inspiring all the children."