24th March 2016
Variety Ambassador Questions Panellists at Europe: Stay or Leave? Debate.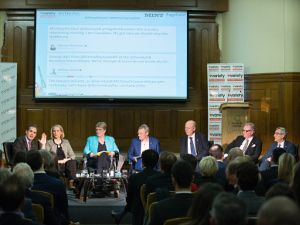 On Tuesday 15th March 2016, exactly 100 days before the vote on the European Referendum, Variety, the Children's Charity, hosted an exclusive evening of topical debate at Church House, Westminster.
Chaired by Jeremy Vine, the audience watched on and also joined in with lively exchanges between the 'leave' camp of Chris Grayling MP, John Longworth and John Redwood MP, who clashed with 'stay' representatives Baroness Sal Brinton, Emma Reynolds MP and Roland Rudd over a diverse range of issues, ranging from the importance of national sovereignty to taxes on 'luxury' goods.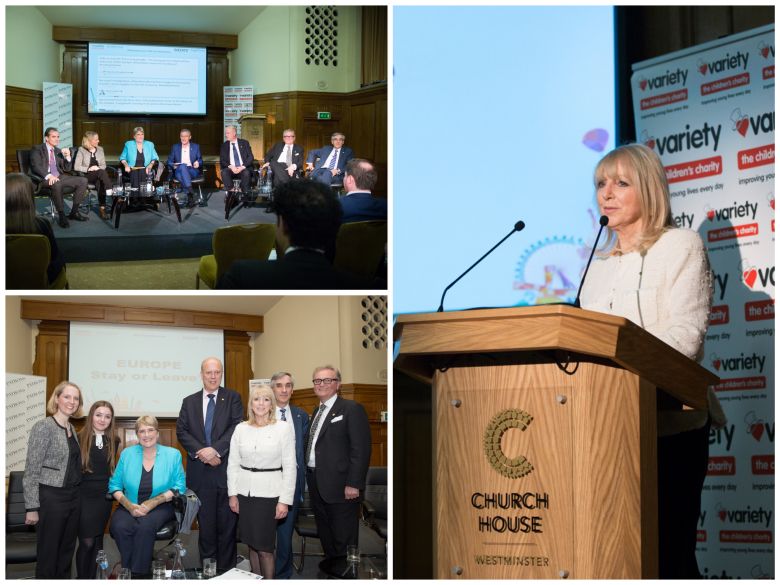 Variety was delighted to welcome young ambassador Alda Saba to the Europe: Stay or Leave? debate. Alda, who is a member of East London's Shpresa Youth programme, was invited along to kick off proceedings by putting the evening's first question to the panellists and host Jeremy Vine.
Alda, who is sixteen years old and currently studying for her A-Levels, said:
It was a huge pleasure to be a part of Variety's EU: Stay or Leave? debate. Trying to decide whether to stay or leave Europe is difficult, as we're comparing our current 'comfortable' situation with a prediction of what it could be like if we did leave the EU. However, our decision will affect the futures of millions of young people around the country, and it is important that people take steps to educate themselves about the topic."
The Shpresa Programme was established by Luljeta Nuzi in 2002, and focuses on advancing the education and training of Albanian people in the UK. In 2015, Variety provided a £500 grant to the organisation to help fund a Thai Kickboxing class for its members.
A poll conducted at the start of the evening and again at the end of the debate saw the 'Stay' team come out on top with a slim victory, winning over many of those who were undecided at the beginning of the evening.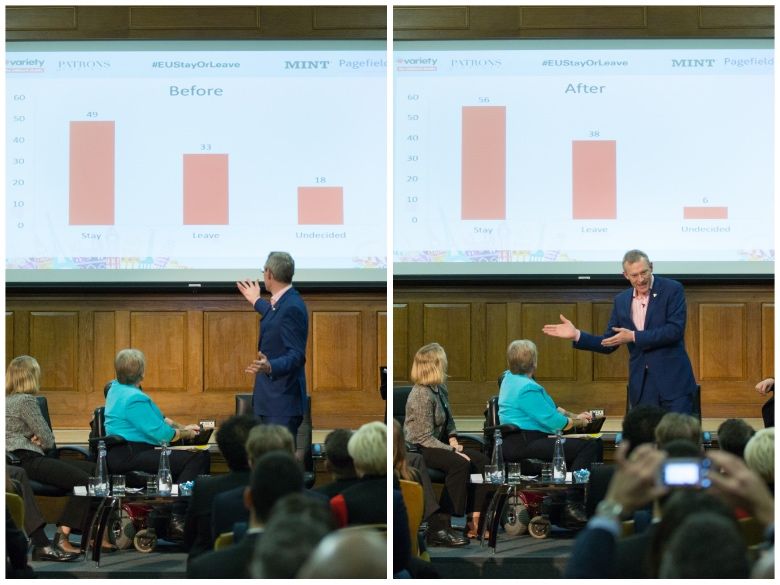 Variety would like to thank MINT Partners a subsiduary of BGC who generously sponsored the evening. BGC are long standing supporters of Variety and have donated coaches, helped us support Paralympians and enable us to give so much more to sick, disabled and disadvantaged children.
The event was organised by Patrons of Variety, a group of high-net-worth individuals who support Variety, the Children's Charity, in its work. Each Patron personally pledges £30,000 over three years, to help provide vital funds for Variety's core work.
Harold Tillman CBE, Founder of Patrons of Variety, added:
As a charity, we are always looking at ways we can give our Patrons and corporate supporters the opportunity to hear from leading voices and engage in highly relevant debates. This event entertained and informed guests in equal measure, whilst providing valuable support for disadvantaged children across the UK.
For more information on Patrons of Variety, please click here.