20th January 2016
New Year Message From the Chief Barker 2016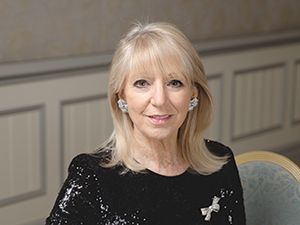 Having been deeply involved with Variety for over 40 years, I am honoured to have been appointed Chief Barker for 2016. It is nothing other than a privilege to head this remarkable children's charity and to be supported by such a tireless team of trustees, employees and volunteers throughout the UK. I am passionate about what we do and how we improve the lives of so many children who struggle daily with sickness, disability or disadvantage.
I would like to thank the 2015 Chief Barker, Jason Lewis, for his excellent stewardship of Variety and for giving me such a good foundation to build on in such a competitive marketplace.
We are, as always, indebted to our many individual and corporate supporters and donors. Without their commitment and donations, we would not be able to meet the huge number of requests for help that we receive daily from distraught families.
2016 will see a landmark year for one of our flagship programmes. Every year since 1966, the Variety at Work team has been taking tens of thousands of disabled and disadvantaged children on day trips that many describe as the best day of their lives. The team is unique in providing this fantastic free resource on such a scale and their work deserves to be better recognised. To assist that recognition and to mark the programme's 50th anniversary, it is being renamed Variety Great Days Out, a name that better describes our programme.
Variety's heritage in the film and entertainment industry is legendary and is an asset that I plan to develop further in 2016. We have already made a great start. January 7th saw our first fundraising event of the year which was a tribute lunch for two of Britain's most loved, admired and respected Gold Medallists, Torvill and Dean. The event was very well attended and a great success. Details of more fabulous events can be found on our website.
The many ways in which Variety makes a difference have always been a source of inspiration to me and I am sure would be for others too, so if you want to be more involved in what we do then please e-mail me at chief.barker@variety.org.uk . I would be very pleased to hear from you.
Finally, I would like to I wish you and your family a very happy, healthy and prosperous New Year and thank you for your continued support.
Pamela Sinclair
Chief Barker 2016