7th September 2016
Do Something Legendary this September!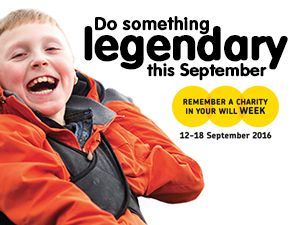 Every year, more and more people are leaving a gift to charity in their Will. These legendary acts provide the foundation for causes like ours and are vital in continuing our work.
That's why, as a member of Remember A Charity, we are taking part in Remember A Charity in your Will Week (12-18 September) – to help raise awareness of the importance of gifts left in Wills.
If you love and support the work of our great charity, then please consider leaving a gift to Variety in your own Will. Your act of kindness now will be helping those in the next generation of children who, sadly, will still have to cope with the daily effects of chronic sickness, disability or disadvantage. Your gift would really improve their lives. Whatever the amount, we're extremely grateful for any gifts left to us.
"The impact Variety makes on children's lives is so long lasting that I have decided to leave a gift in my will to help ensure our work lives on."

Pamela Sinclair – Chief Barker 2016
Taking care of your loved ones and favourite charities is easier than you think. You can speak to our own Legacy Manager, Monica Smith, on 0207 428 8117 or click here for more information